Welcome to Your YEPIC Journey!
Navigating YEPIC is a breeze, and we're here to guide you through every step of the way.
User Guide
YEPIC is not just an app; it's a versatile tool meticulously crafted to cater to tradespeople from various fields.
Below are some insights and tips on how to utilise its rich features. We've split up the information into areas of the app.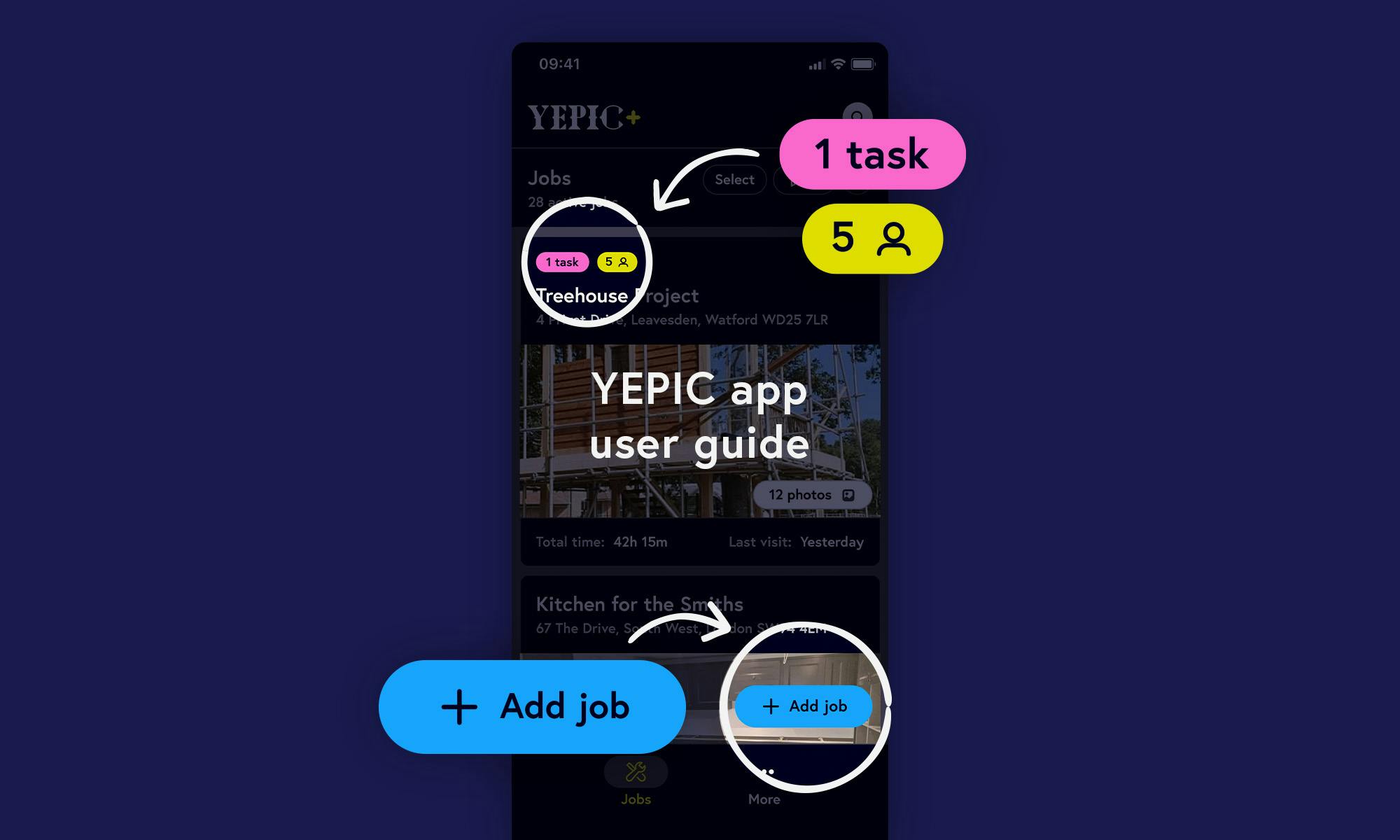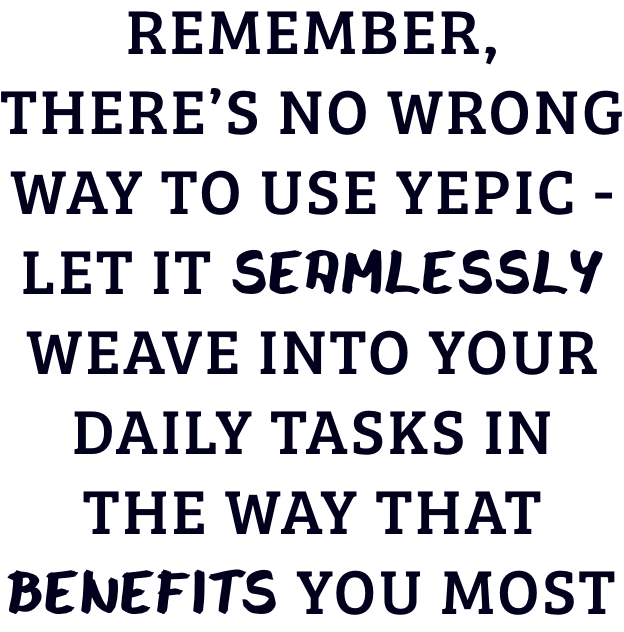 Sam Overment - YEPIC CEO
Your job feed is at the core of the YEPIC app. It displays all the jobs you've added in order of most recently visited.

Creating A New Job
To create a new job, simply tap the blue 'add job' button. You can choose a photo from your camera roll or take a photo to create a job.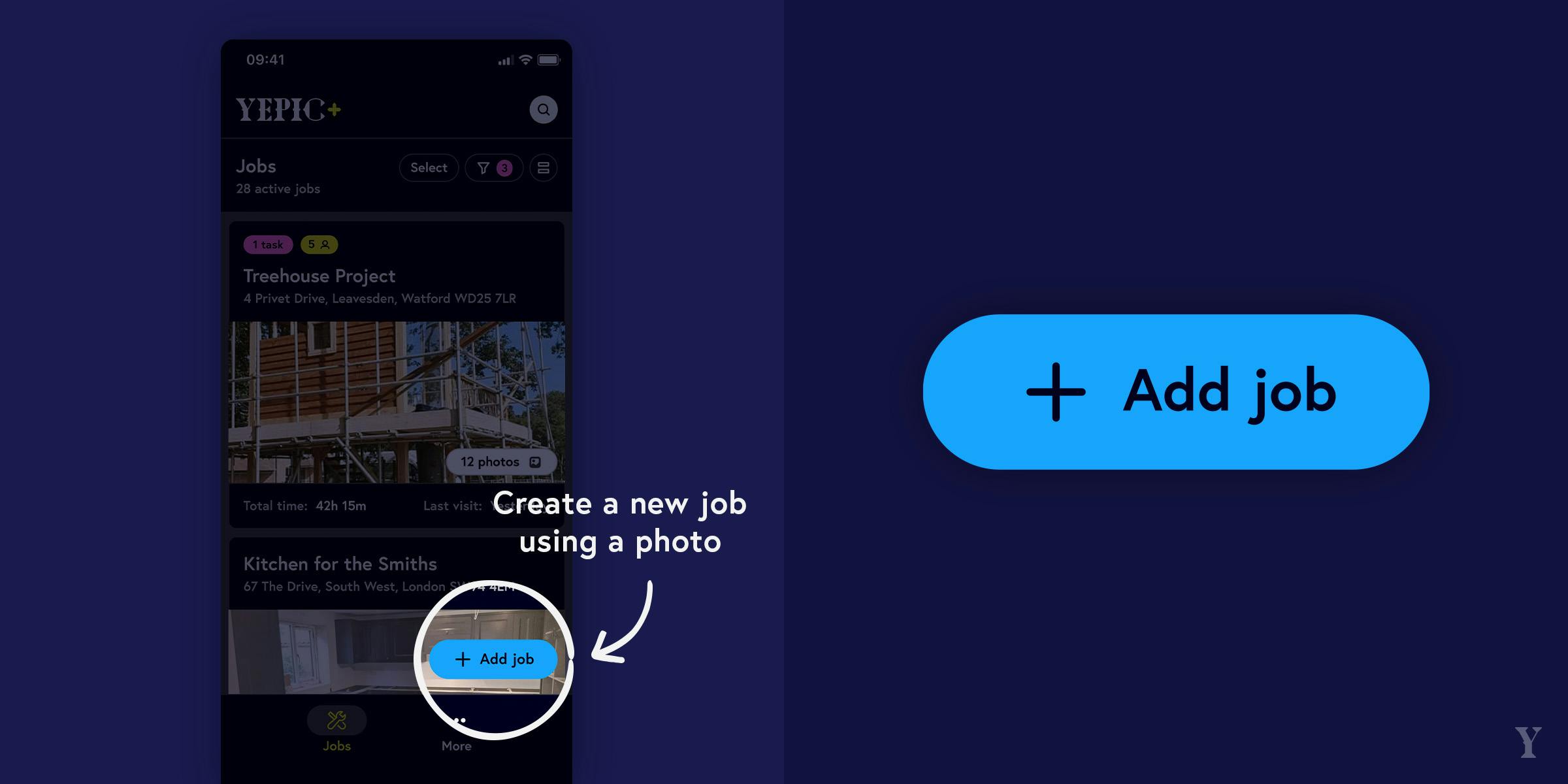 Searching
Use the search function to quickly find jobs using keywords like job title, address, or notes.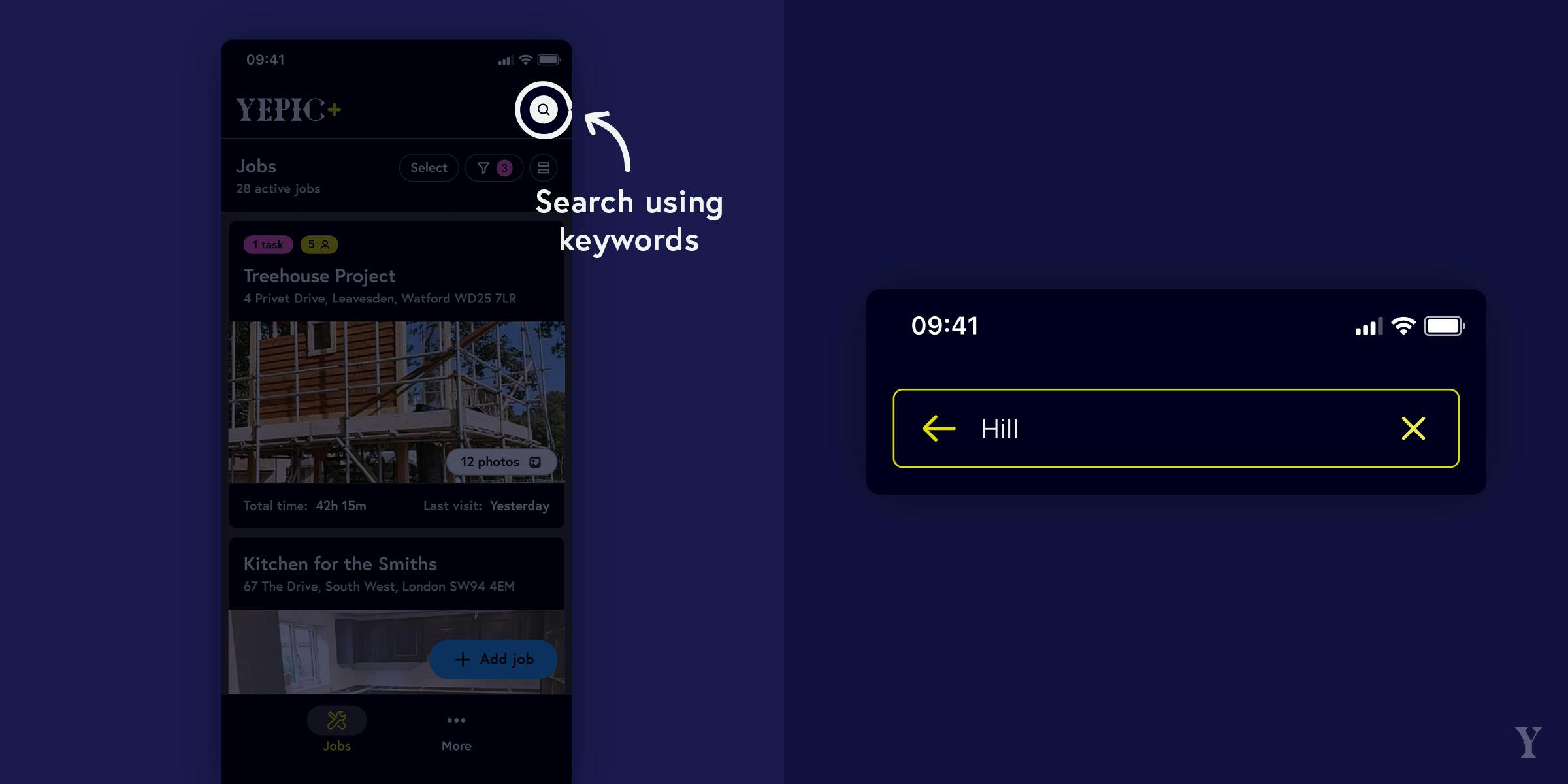 Job Total
The total number of jobs on your feed is shown here.

Select Functionality
Hit the select button to put the app into select mode - you can select one or multiple jobs and choose from the various further actions.

Feed View
You can switch between 'card' and 'list' view using the icon in the top right. 'List' view provides a more condensed feed.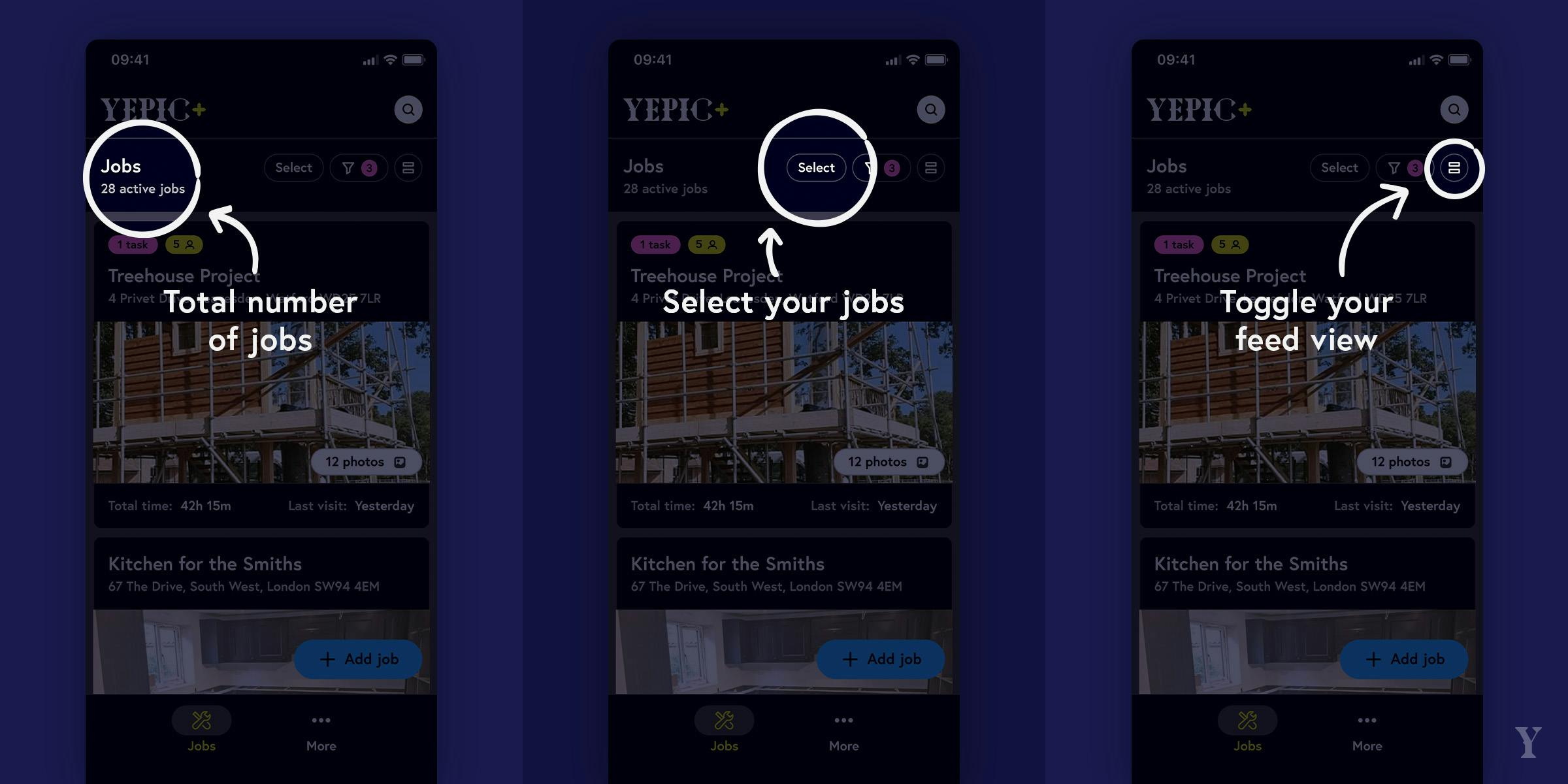 Create jobs in YEPIC using photos. Add one photo to get started.

Add photo
To create a new job, simply tap the blue 'add job' button. You can choose a photo from your camera roll or take a photo.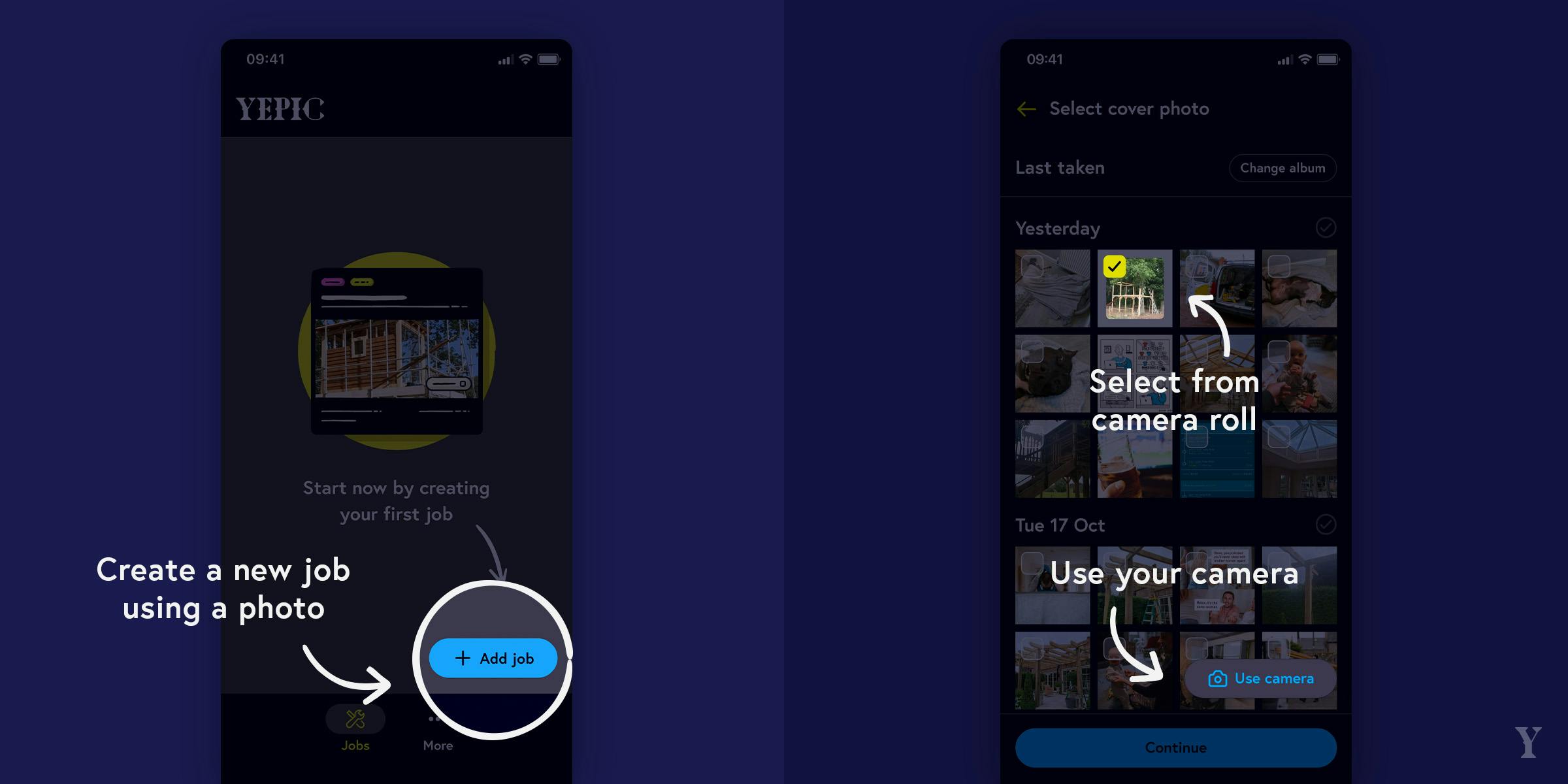 Choose location
YEPIC will find the address from the photo. This can be adjusted by either moving the pin or manually changing address.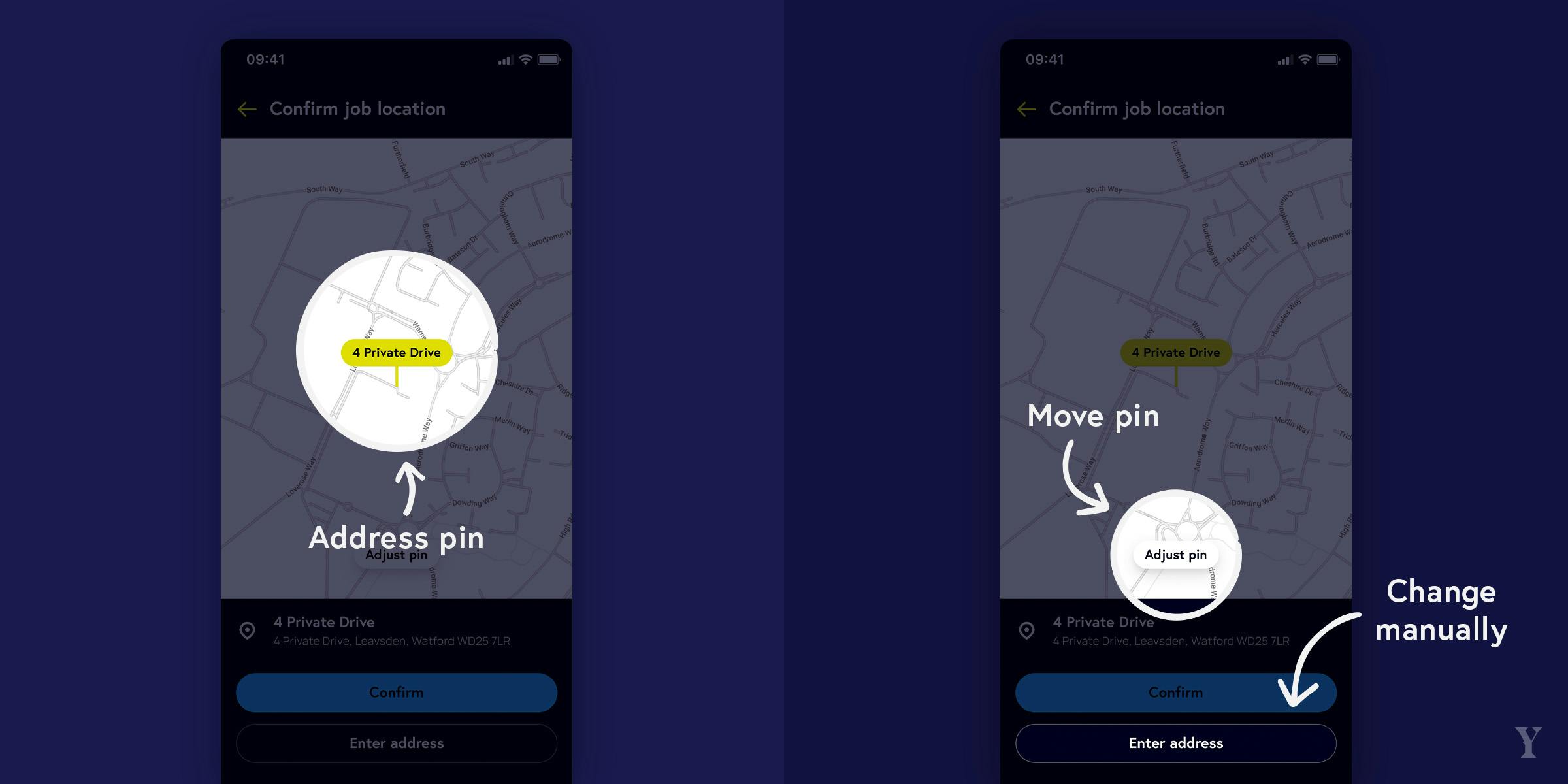 Job name
Give the job a name. This defaults to the first line of address.

Create job
Create the job. Any previous visits from the job location will be automatically pulled in.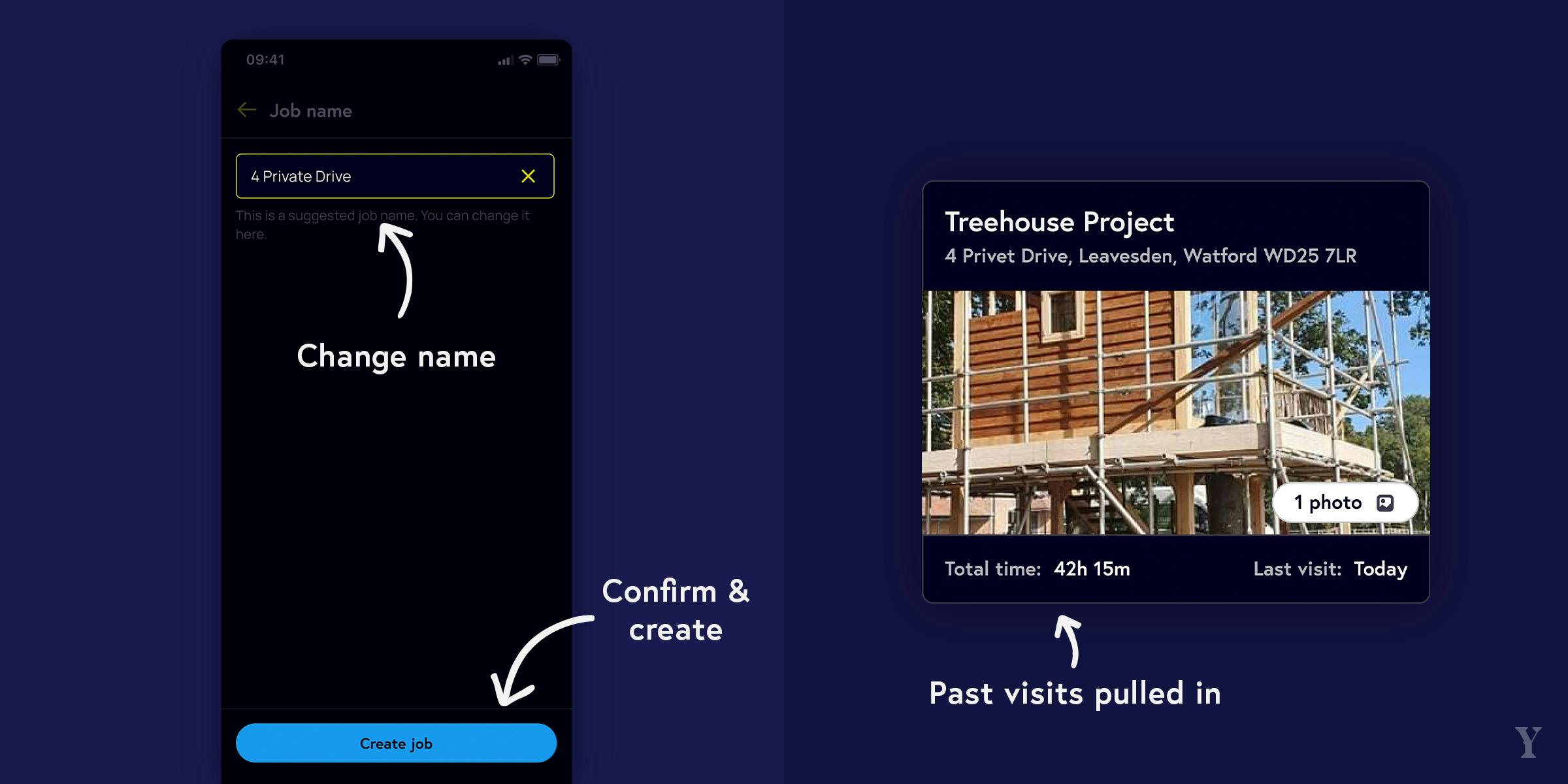 The bottom navigation helps you to quickly move to other key areas of the YEPIC app.

Jobs
This is your job feed.

More
Explore the main menu of the YEPIC app for additional options and features.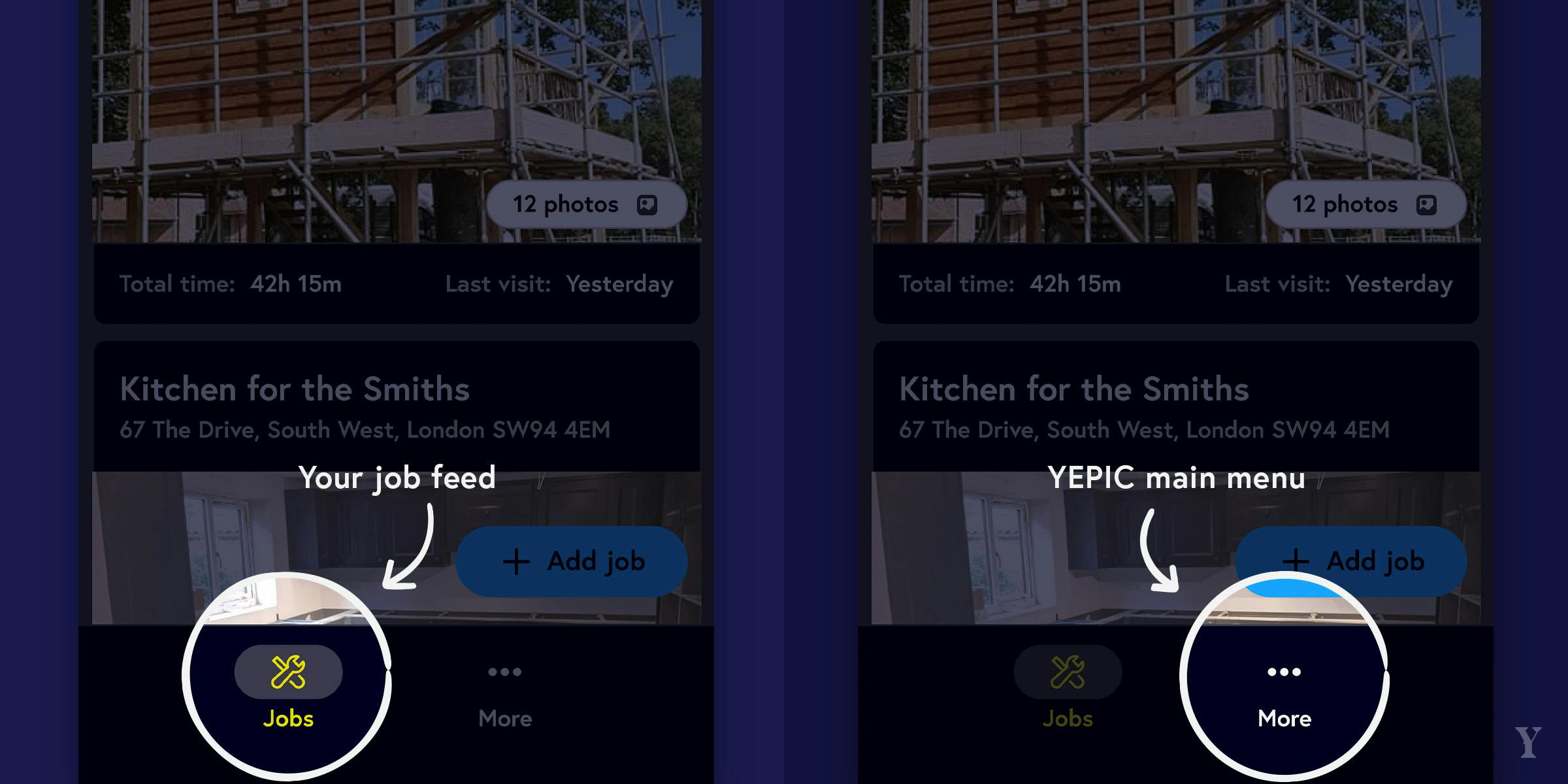 Jobs are displayed as cards in your feed, each providing a quick overview of the job. Each job can be identified by the job name and address.

Photos
Each job has a cover image that you can change. The total number of photos in that job is shown as a badge.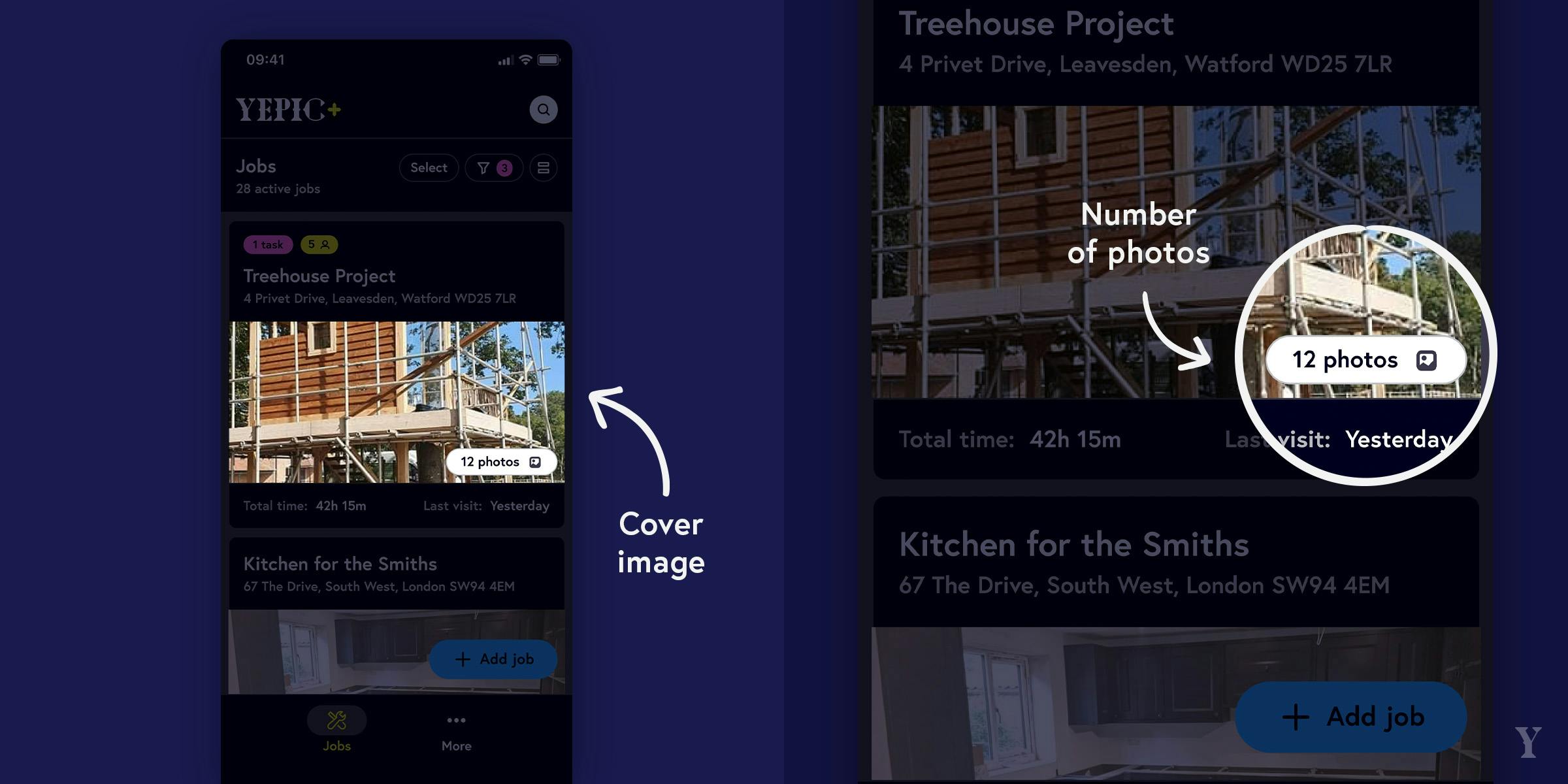 Time
Track the total time spent on the job, both manually and automatically added entries are included in the total time figure shown. The date of your last visit is also visible.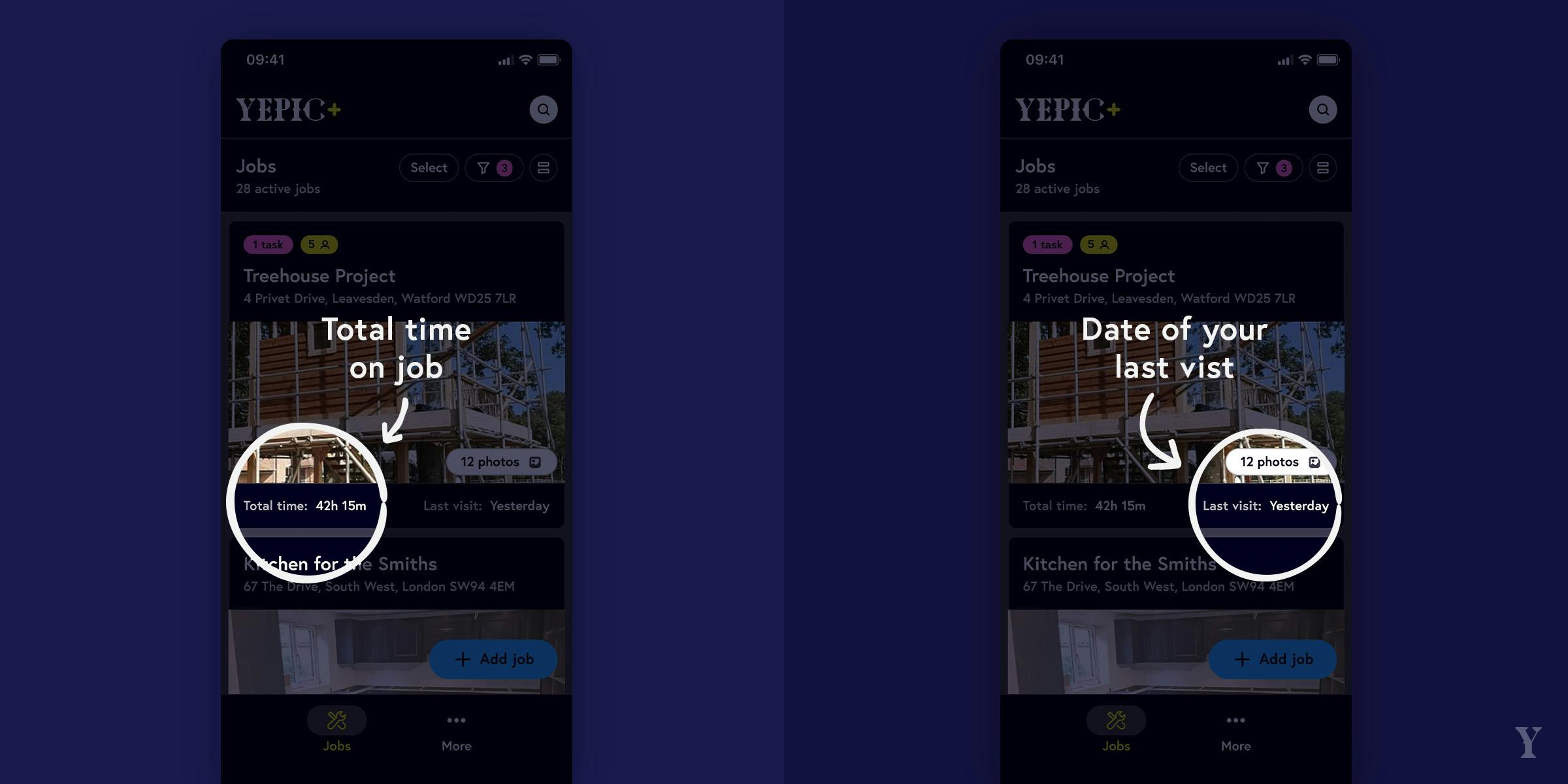 Badges
In progress: Will show when you're at the site location.
Tasks: Number of tasks marked as 'to do'
Team: Number of team members added to the job.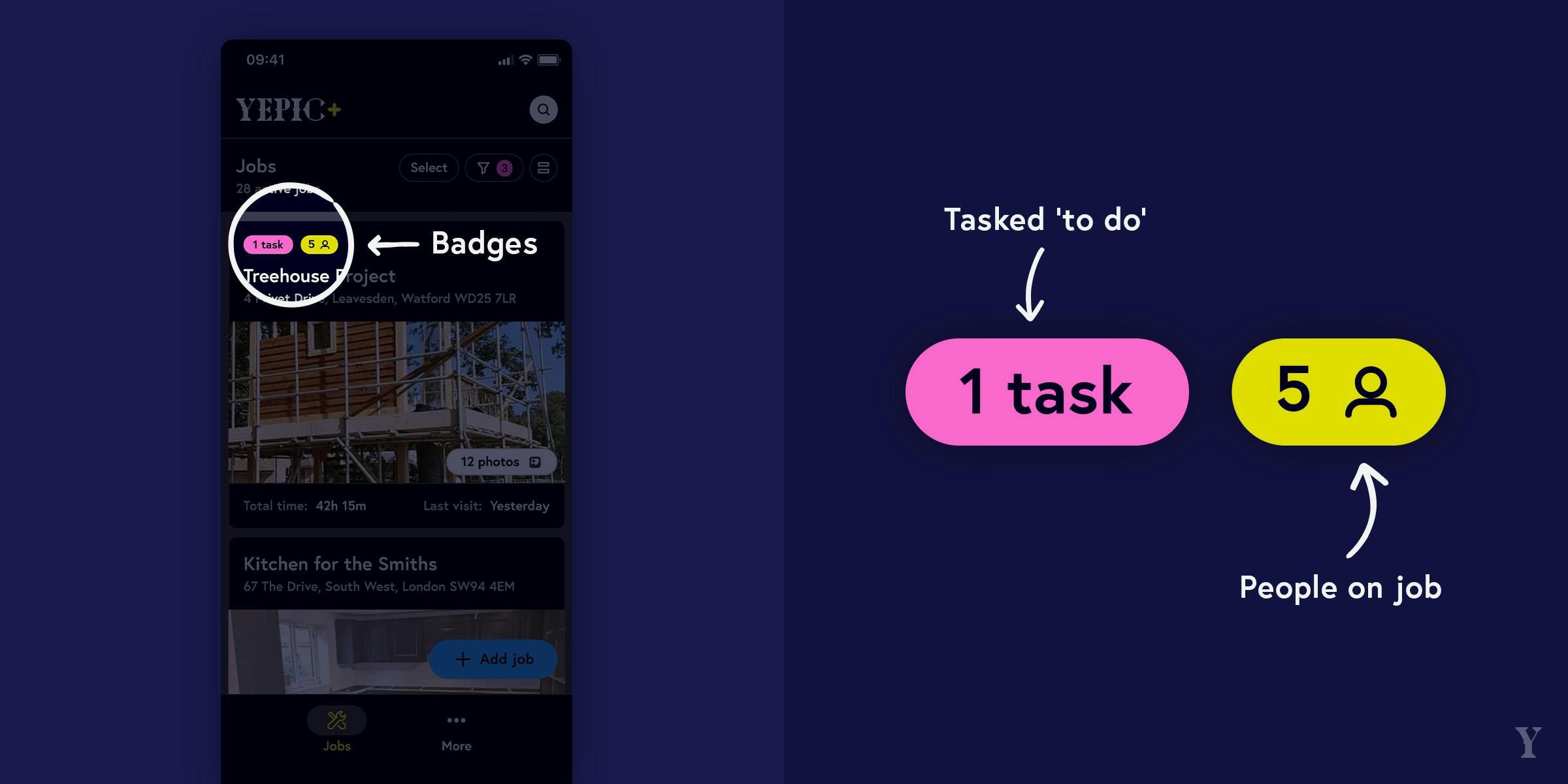 Tap on a job card to go inside the job and view full job details.

Header
Use the back arrow to return to the main job feed.

More Icon Inside Each Job
Access further options, including creating PDF job reports, renaming the job, or deleting the job using the round more button with the three dots.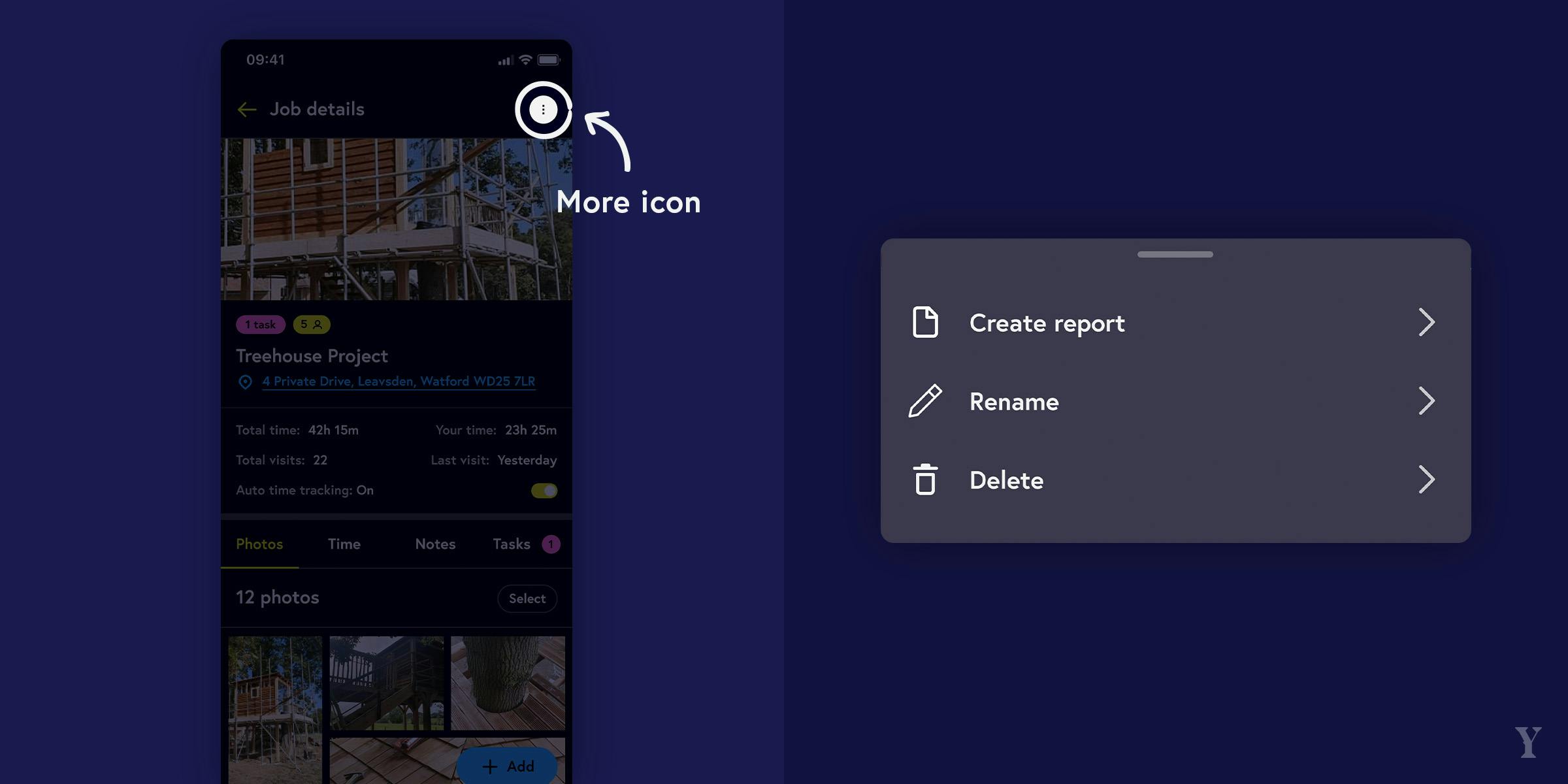 Cover Image
The cover image also appears on the job feed. You can change it by selecting any of your images within the job and hitting set as cover photo.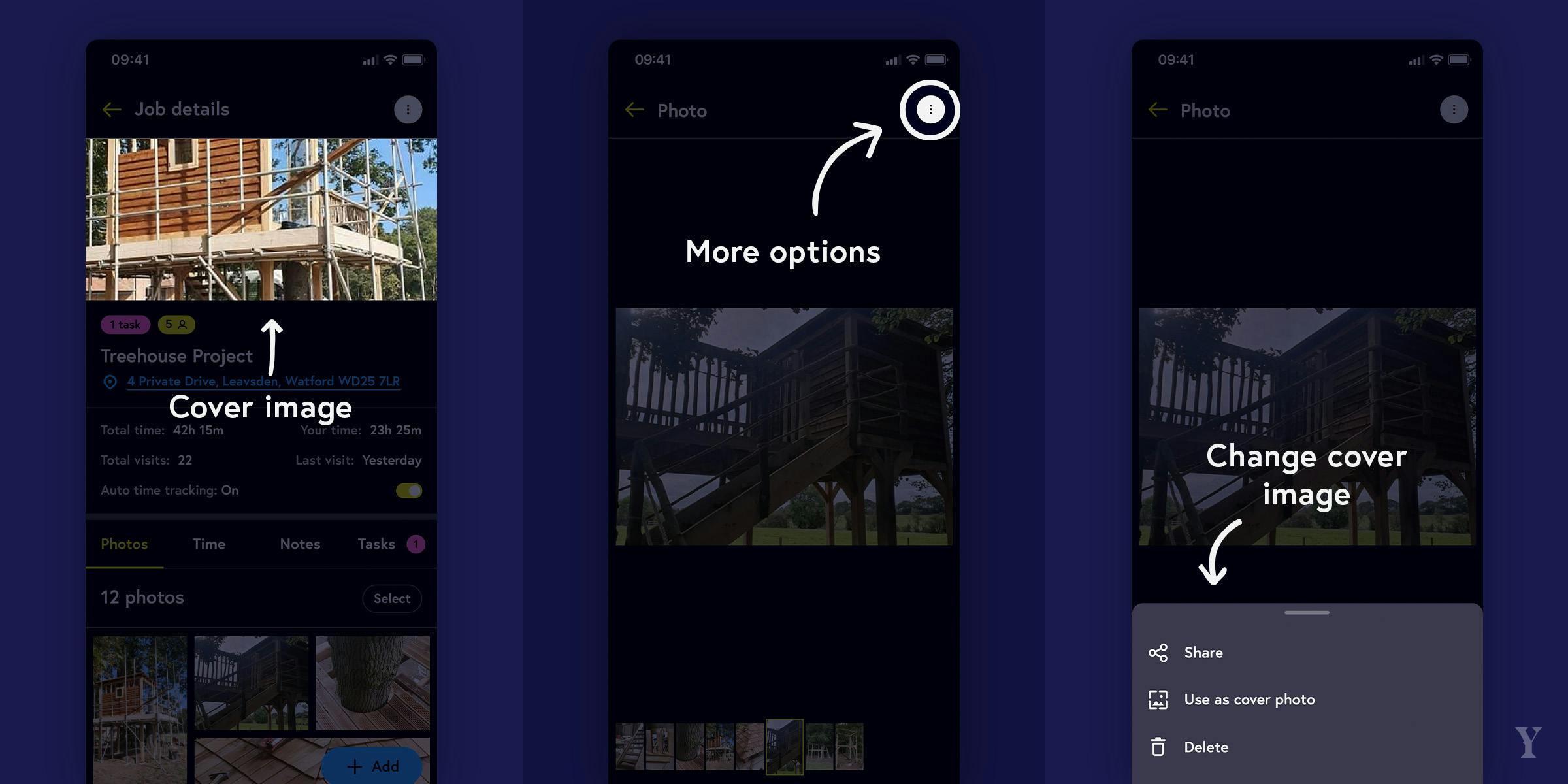 Badges
Similar to the feed, badges may indicate tasks, and team members for that job.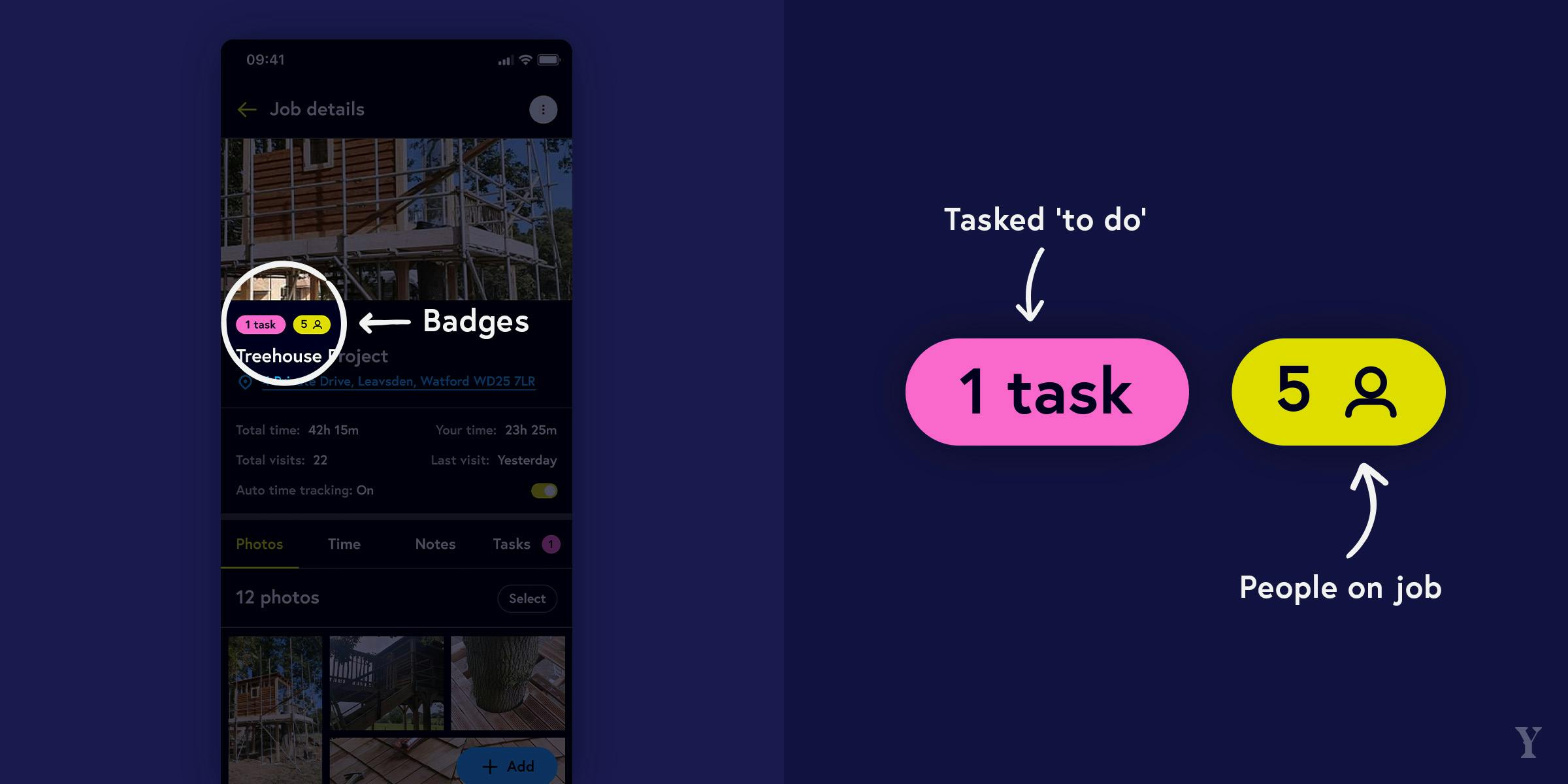 Name & address
The name and address for the job can be edited at any point. Tap on the address to show map options. Edit job name from top right 'more' icon. Any automattic visits will be pulled from the job location you select.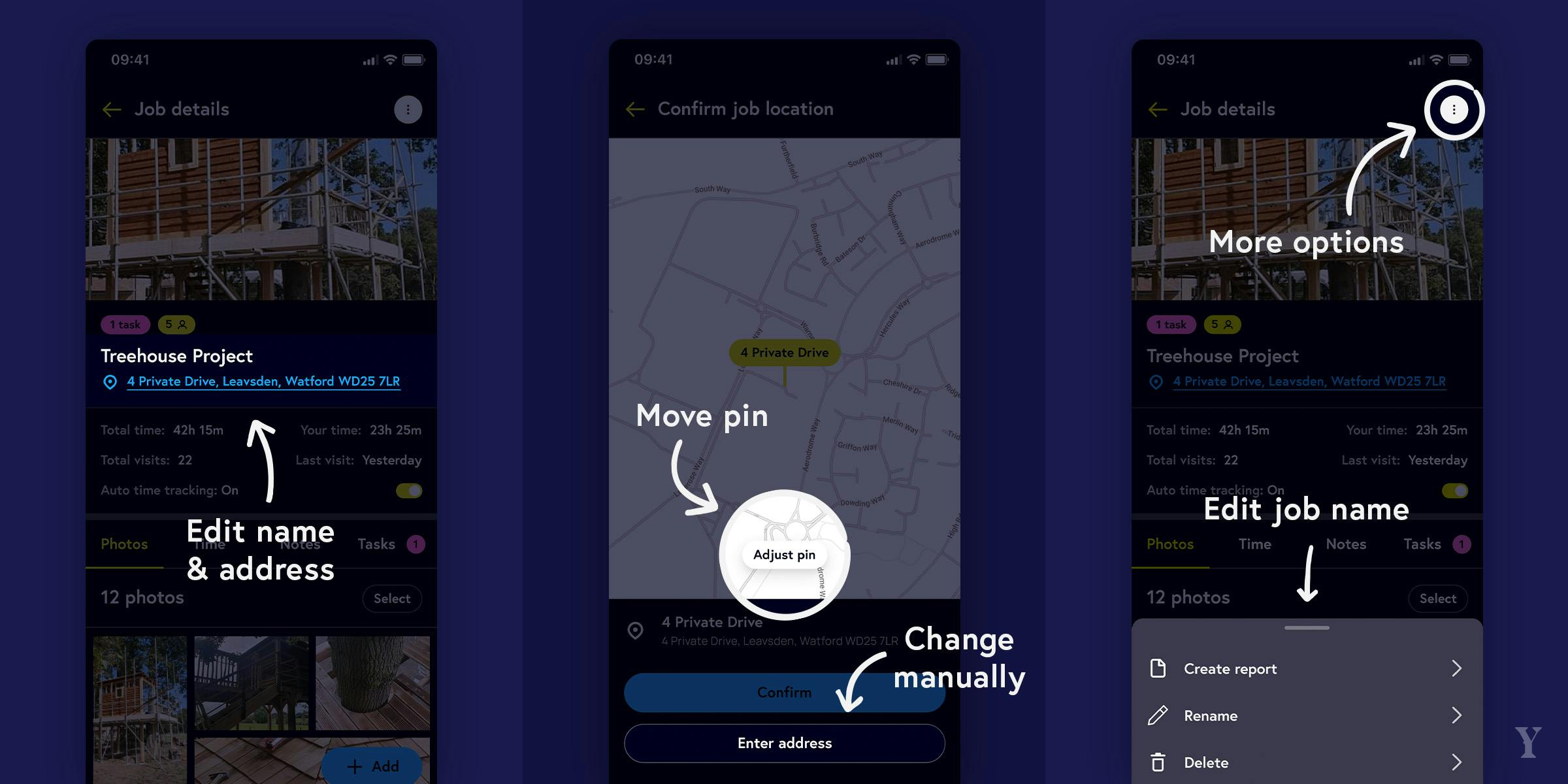 Details
Shows information, such as the total time spent on the job, your individual time spent at the job, visit count, last visit date, and toggle switch to turn or off automatic time tracking.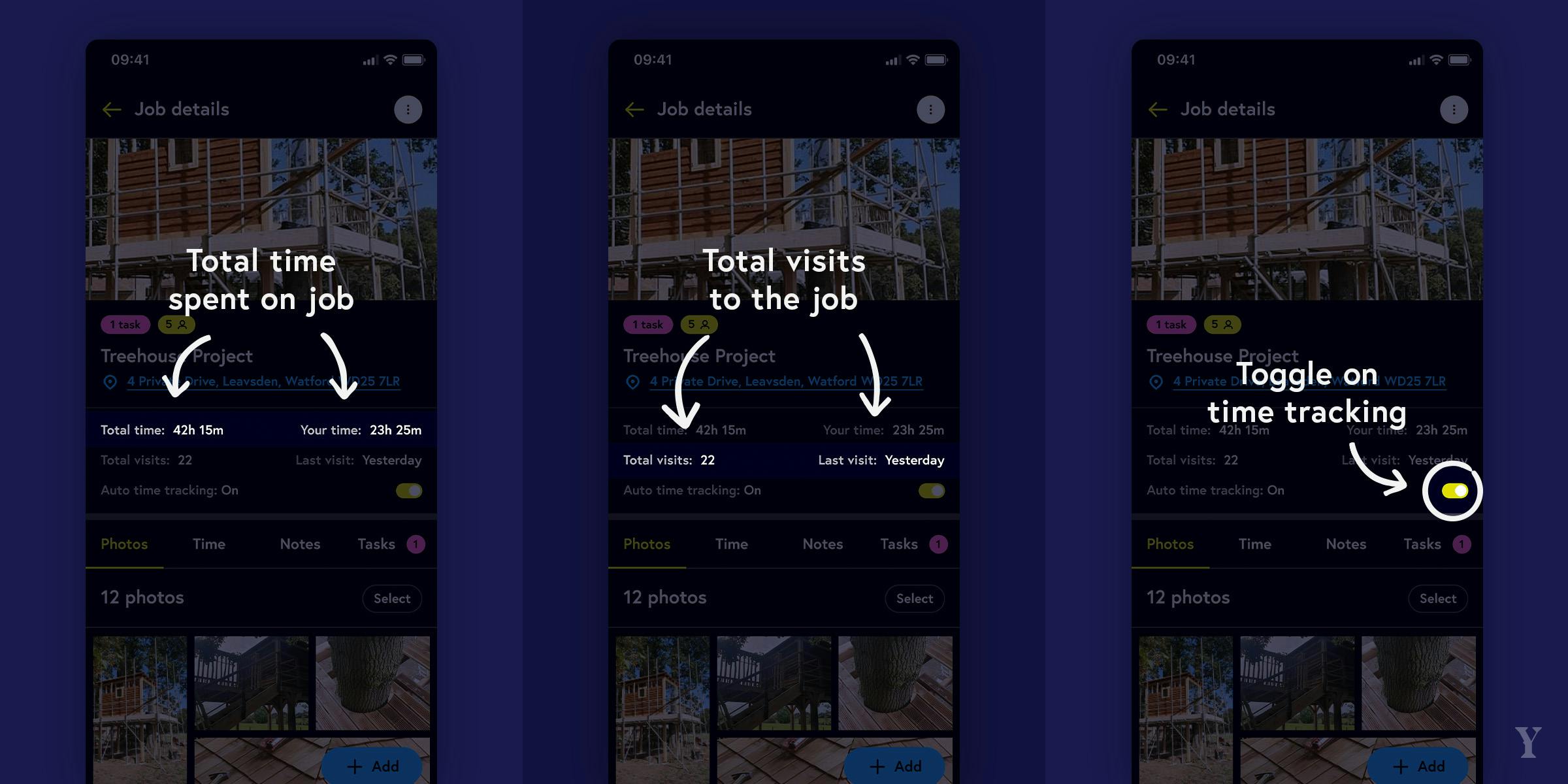 Tabbed Areas
Navigate through photos, time entries, notes, and tasks associated with the job.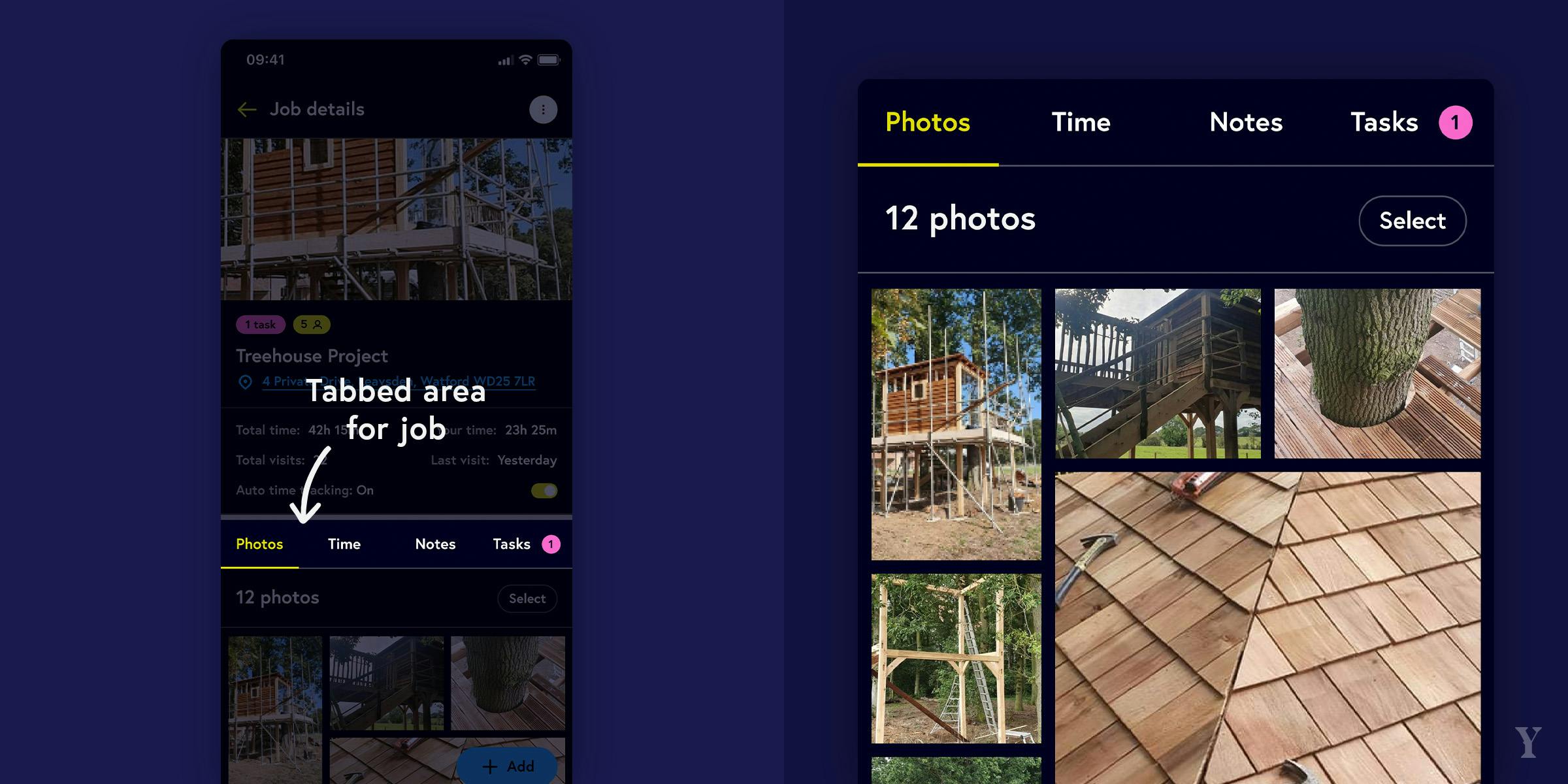 Add Button
Add more job information, including photos, visits, notes, and tasks in their respective areas.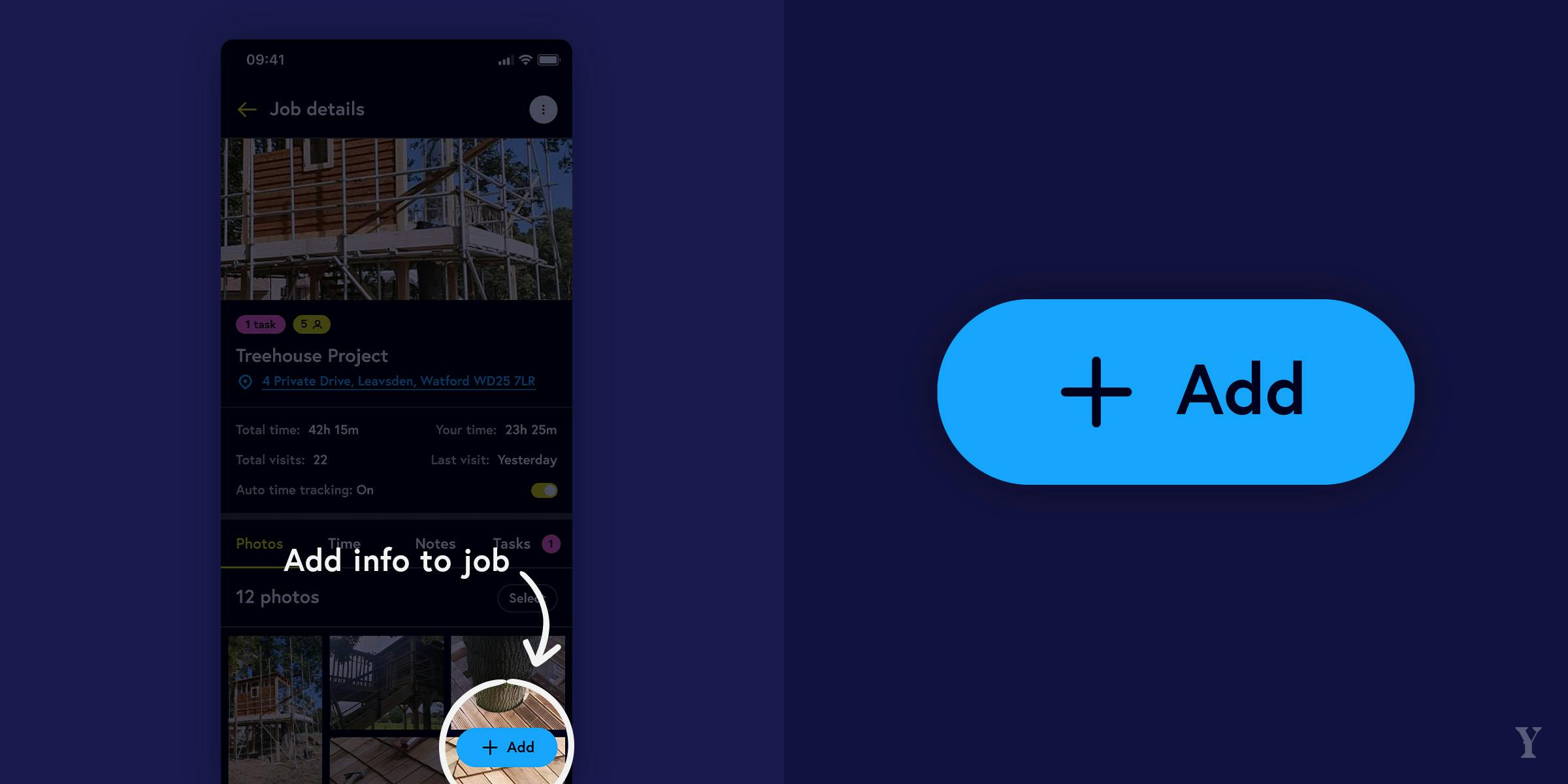 Create PDF Job Report
Generate a PDF job report, including photos, time, notes, and tasks, by clicking the More icon in the top right and selecting 'create report.'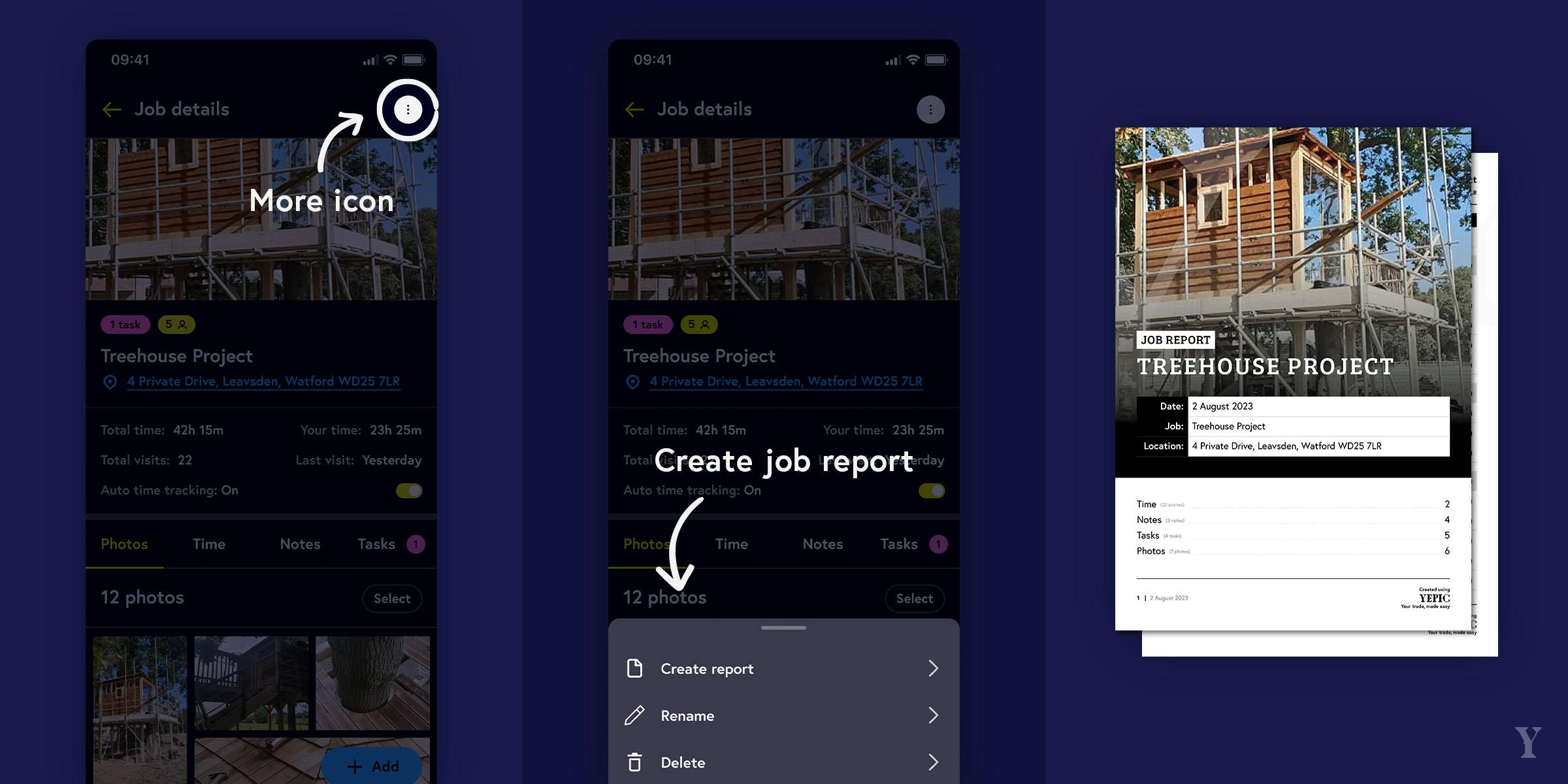 Within job details, you can access the photos section.

Total Photos
See the total number of photos associated with the job.

Select
Choose and manage photos. You can delete or share them.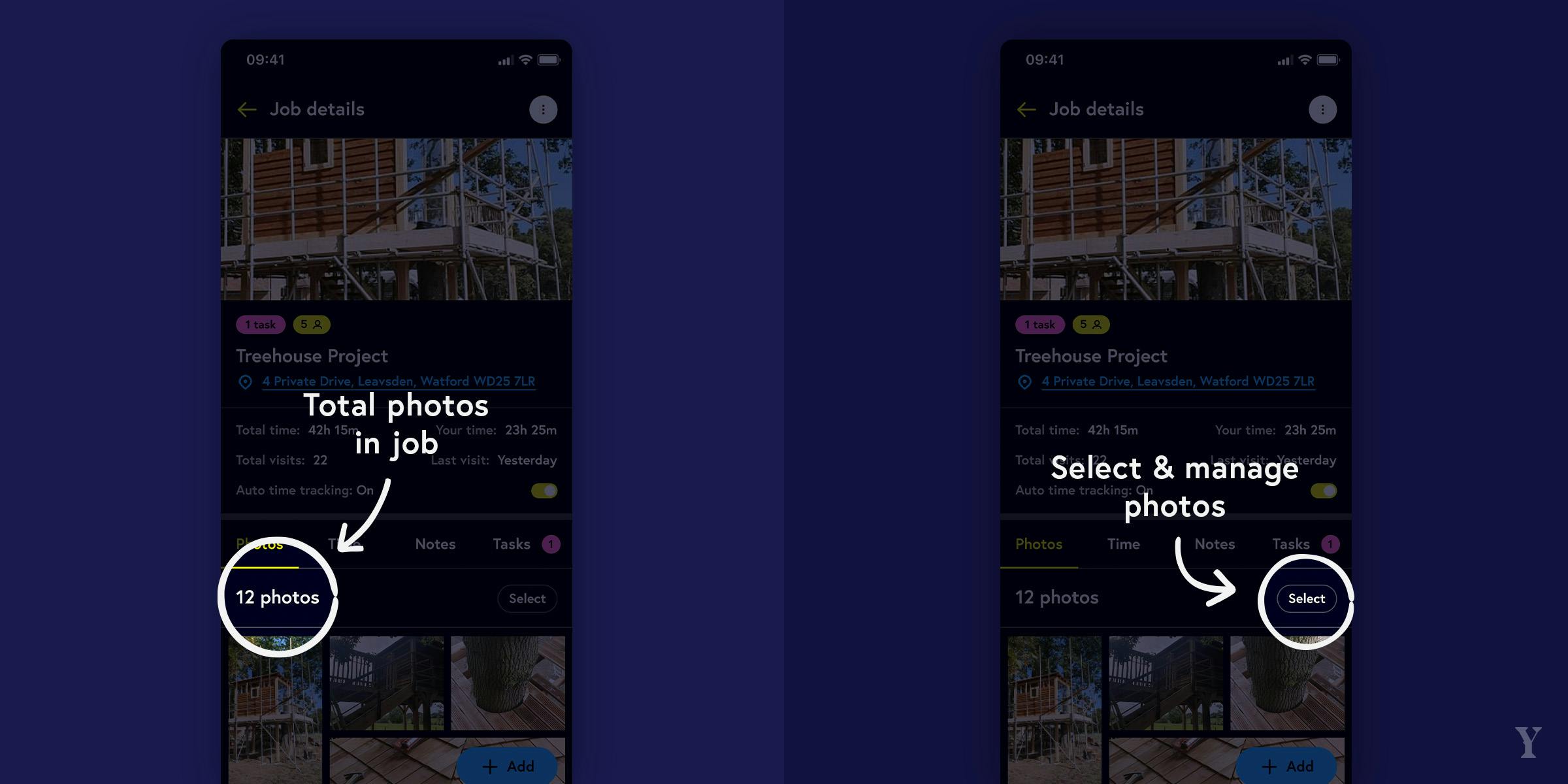 More Photos Found
A purple banner indicates additional photos from that location in your camera roll. To enable YEPIC to find these photos, set your photo permissions to 'all photos.' You can tap the purple banner to view and select which photos you want adding to the job.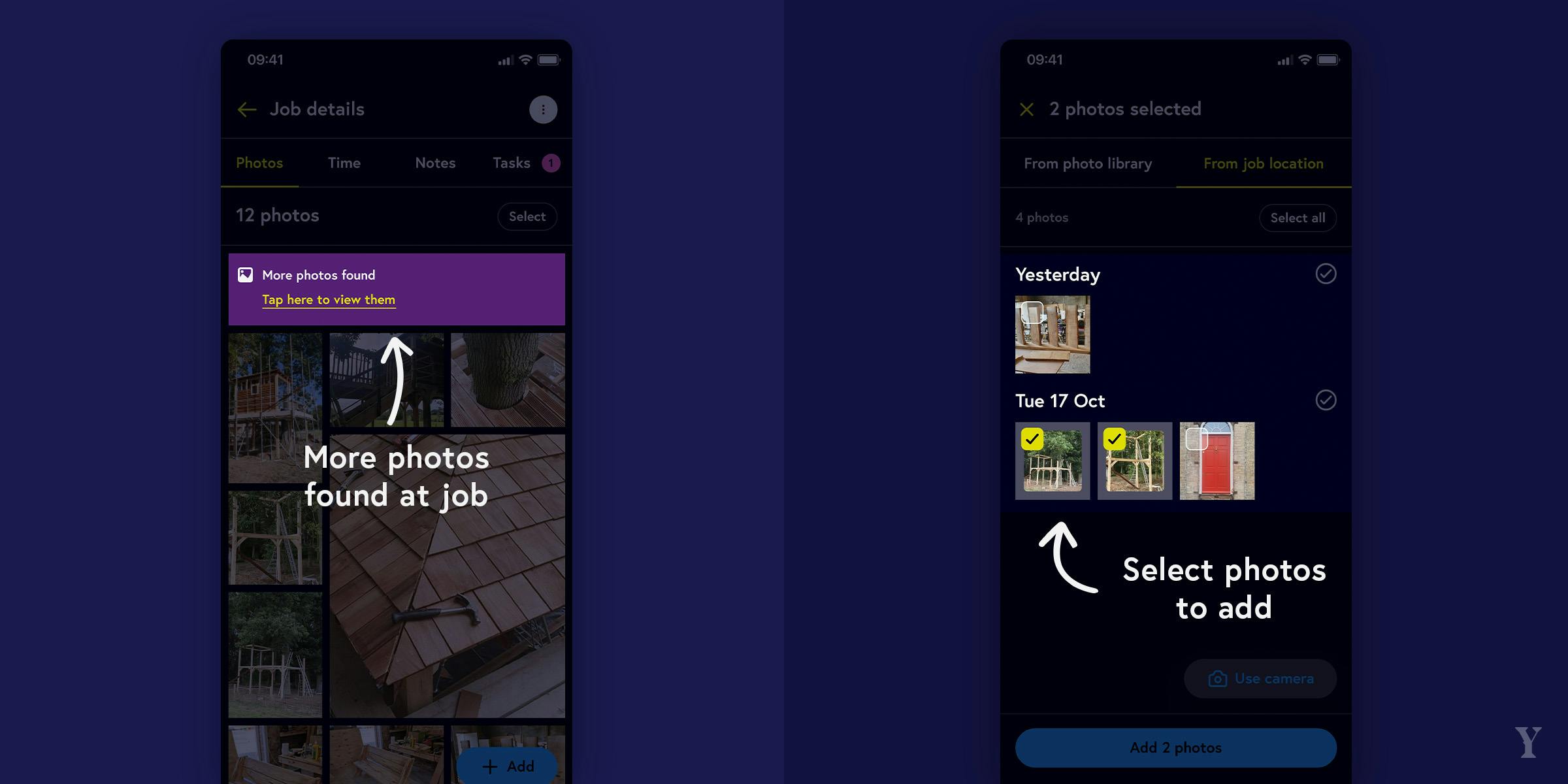 Photo Details
Tapping on a photo enlarges it, and you can swipe sideways to view other photos.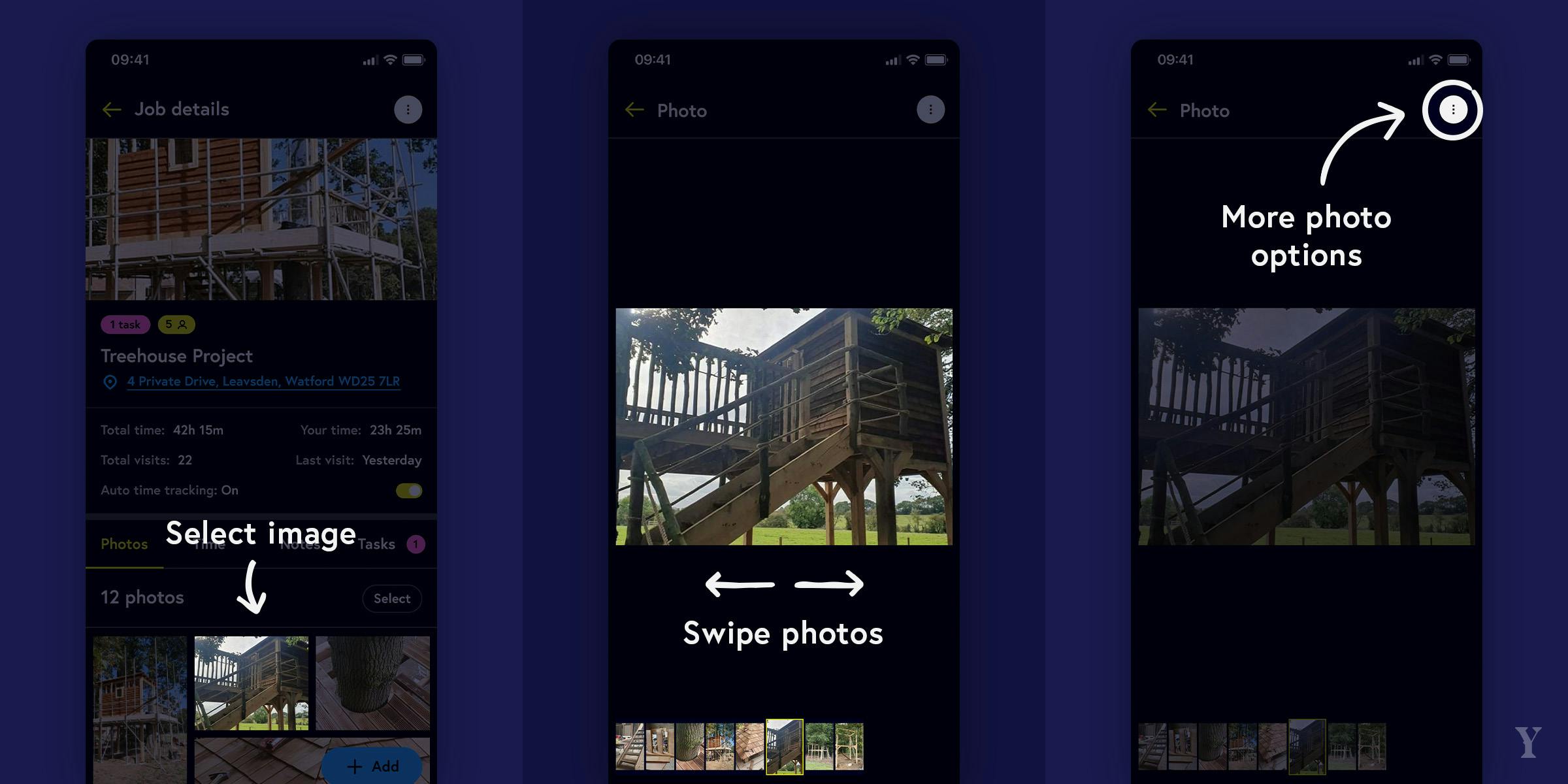 Add Photo
Add photos to the job by tapping the blue 'add' button, which allows you to choose images from your library or take new ones.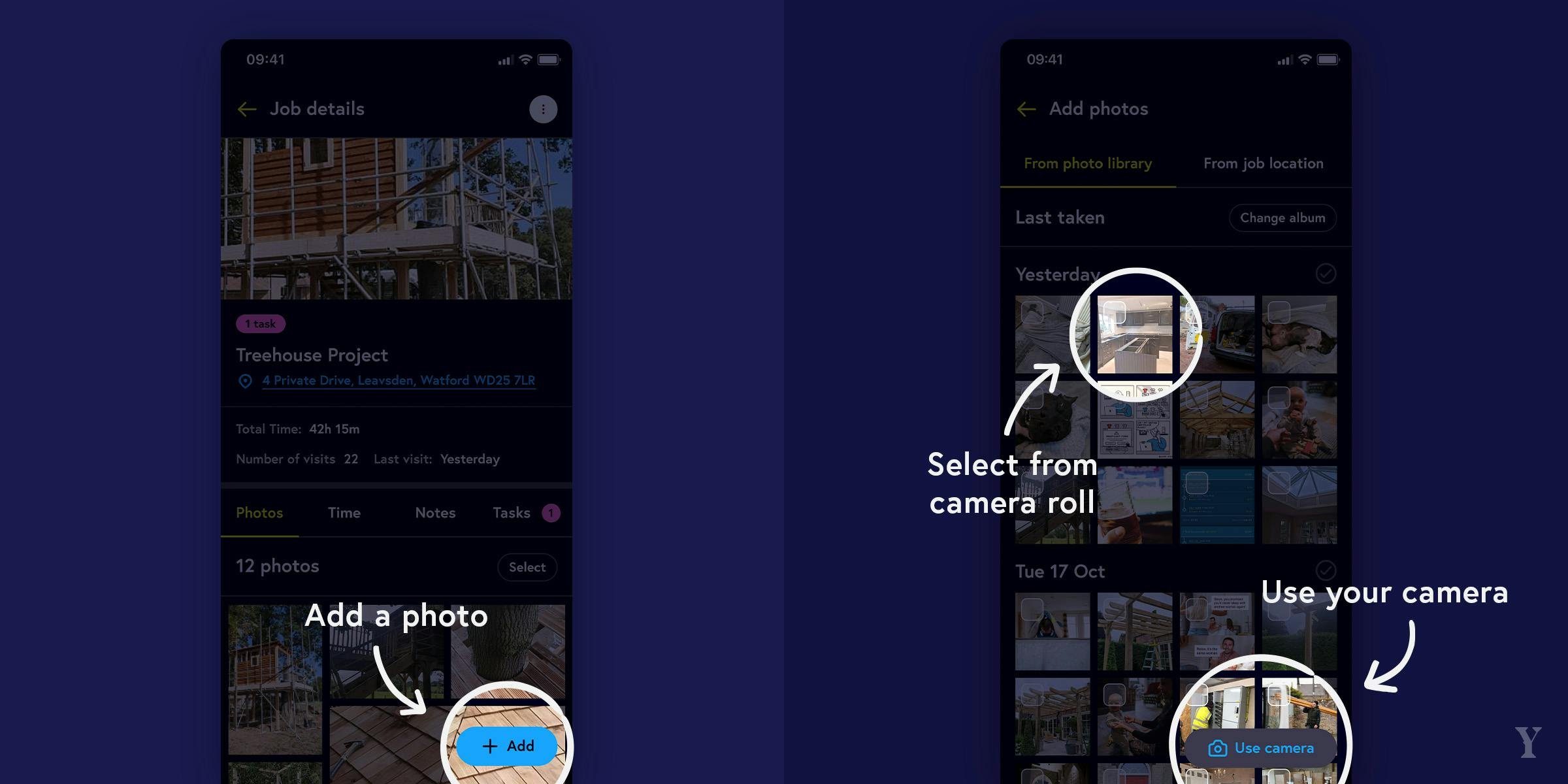 Within job details, you can access the time section.

Total Visits
View the total number of visits for that job.

Select
Choose and manage visits. You can delete, share, or create Excel timesheets from your time entries.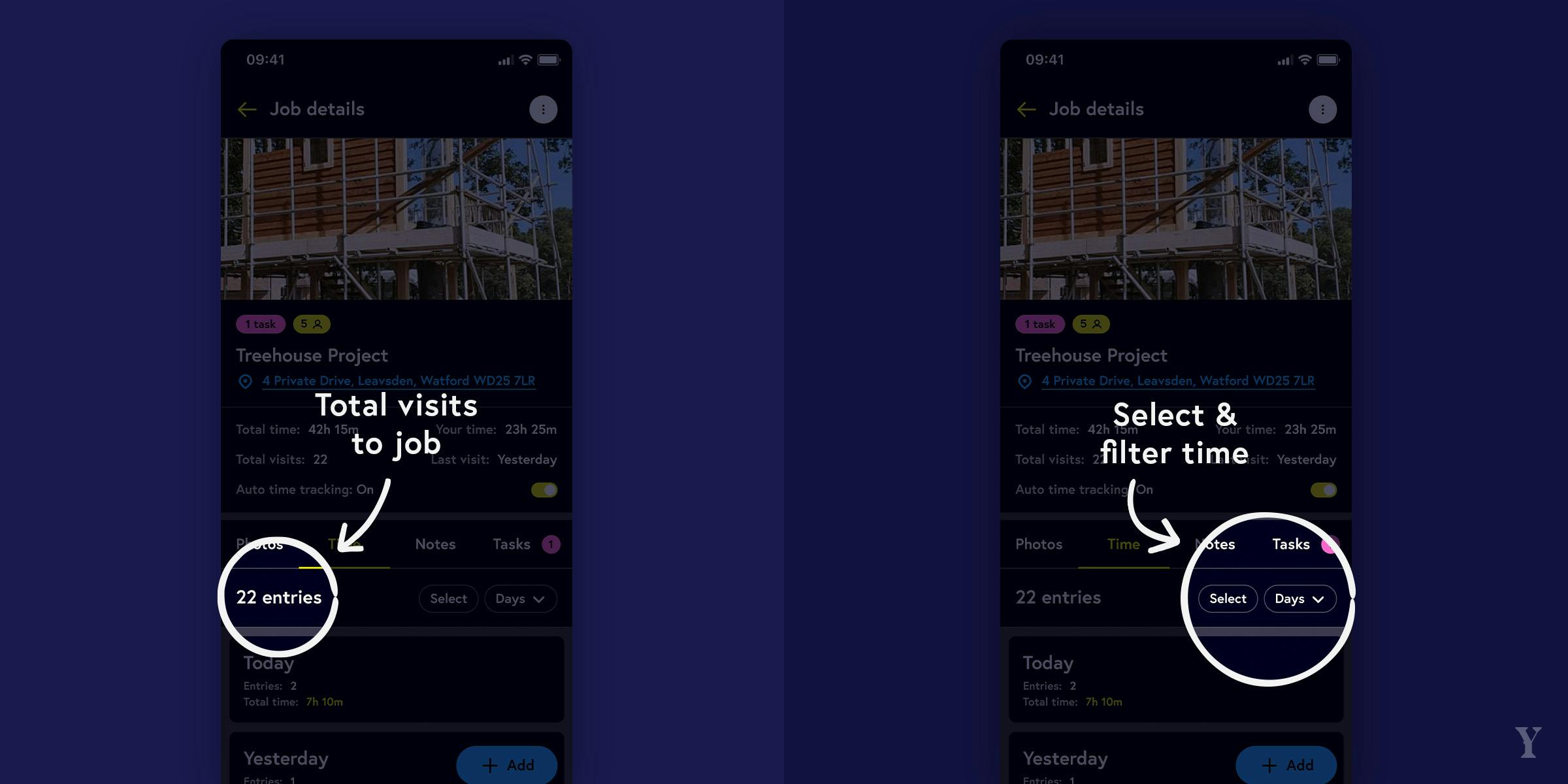 Time Card/Entry
Each time entry includes the date, total visits, total time. Tapping on a time card reveals more details.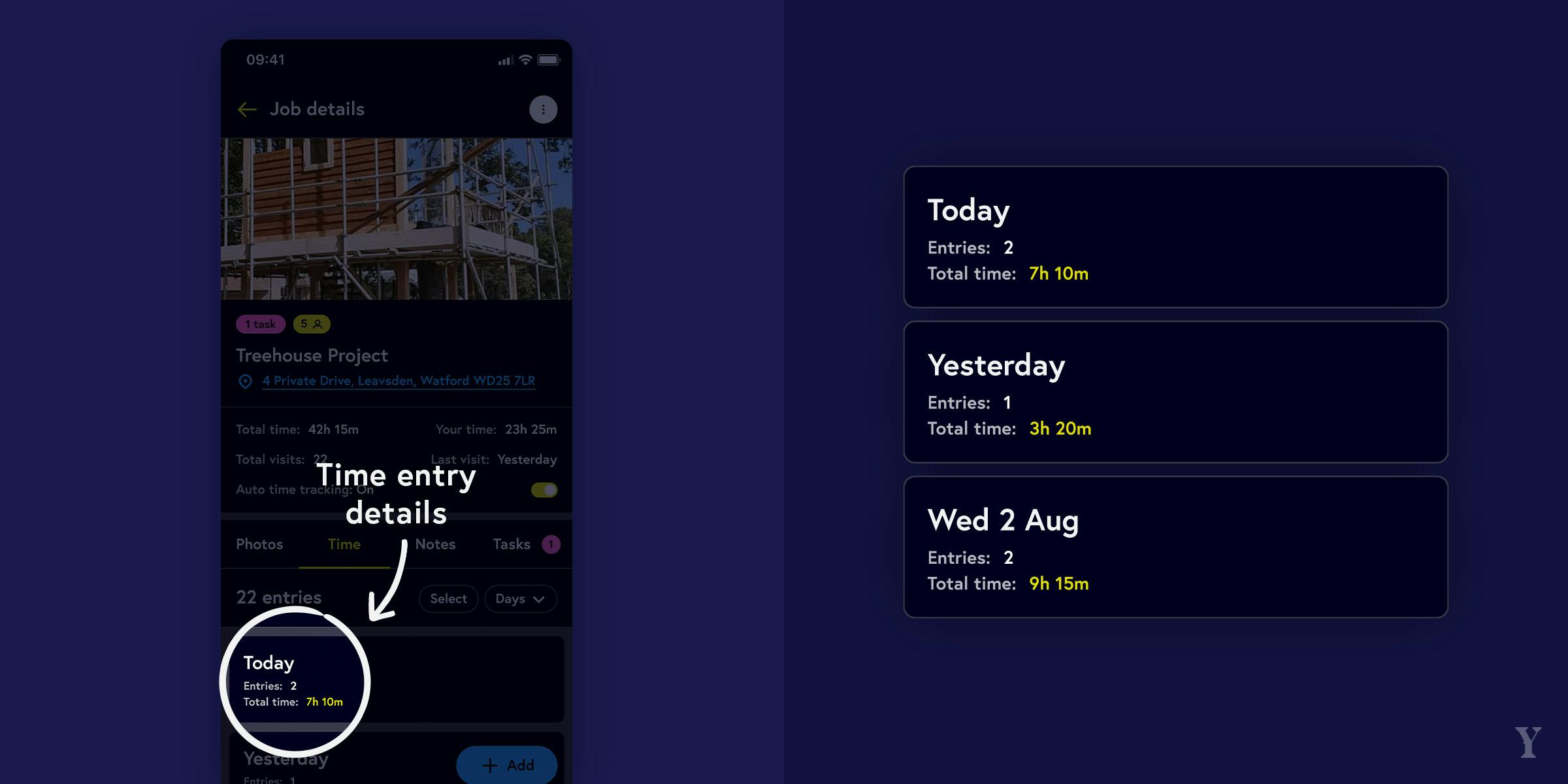 Time Details
Get a breakdown of each time entry, including start and end times.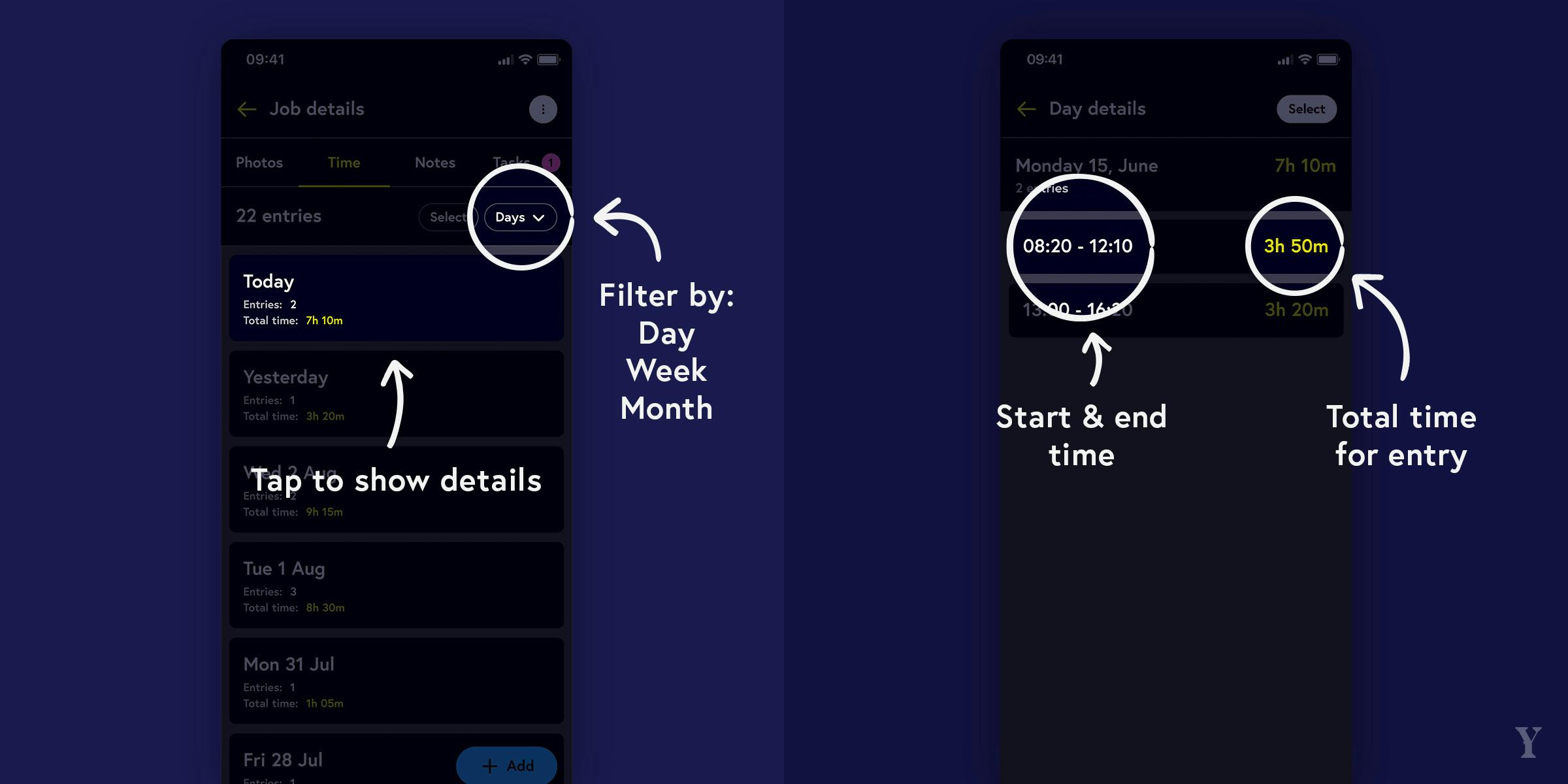 Editing Time Entries
Both automatically added and manually added time entries are editable, just hit the edit button and change the date, start time, or end time.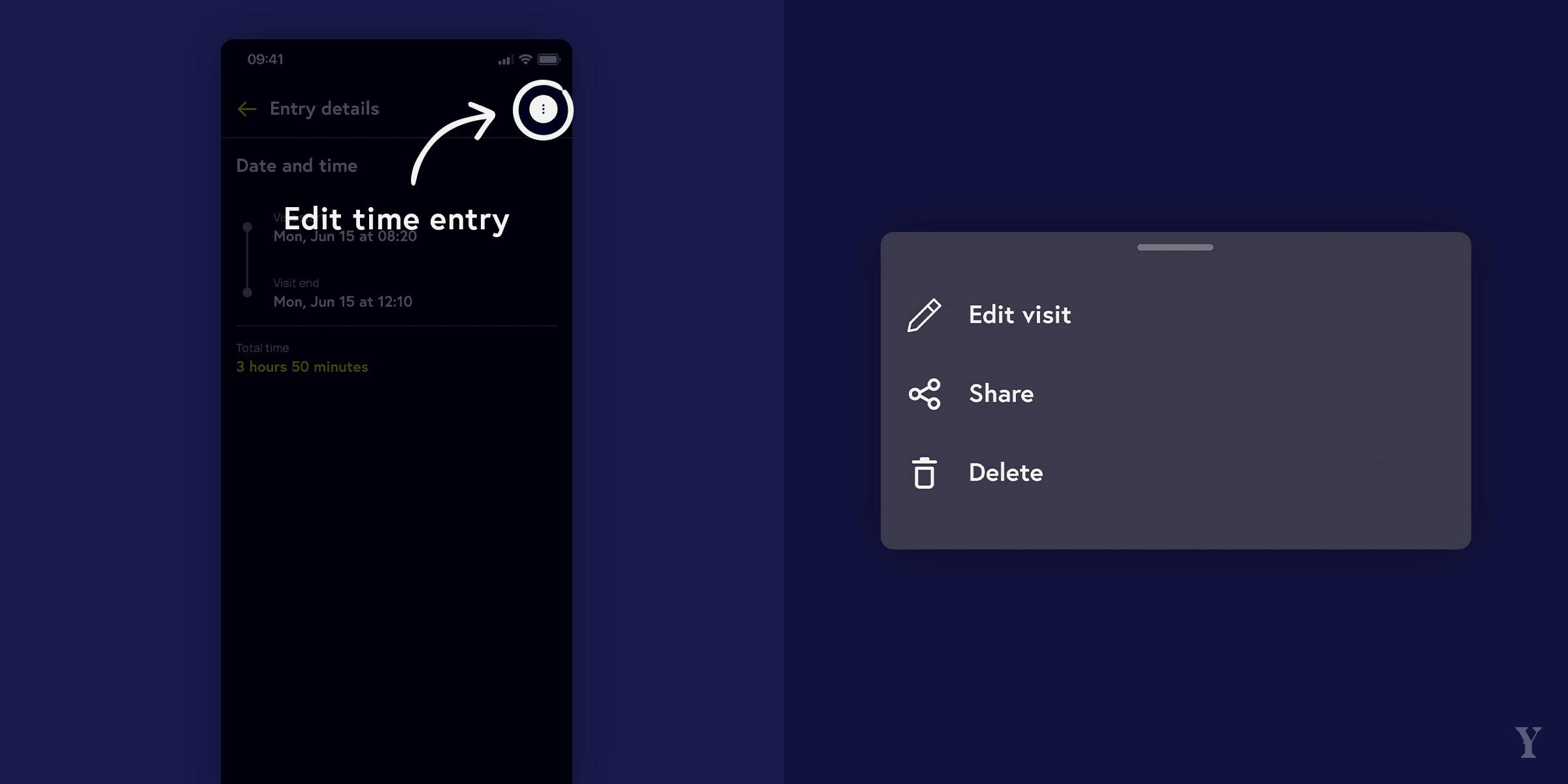 Add Time
Manually add time by tapping the blue 'add' button, where you can specify the date and times. Manually added time entries will stop any automatic entries from populating that overlap the same time period.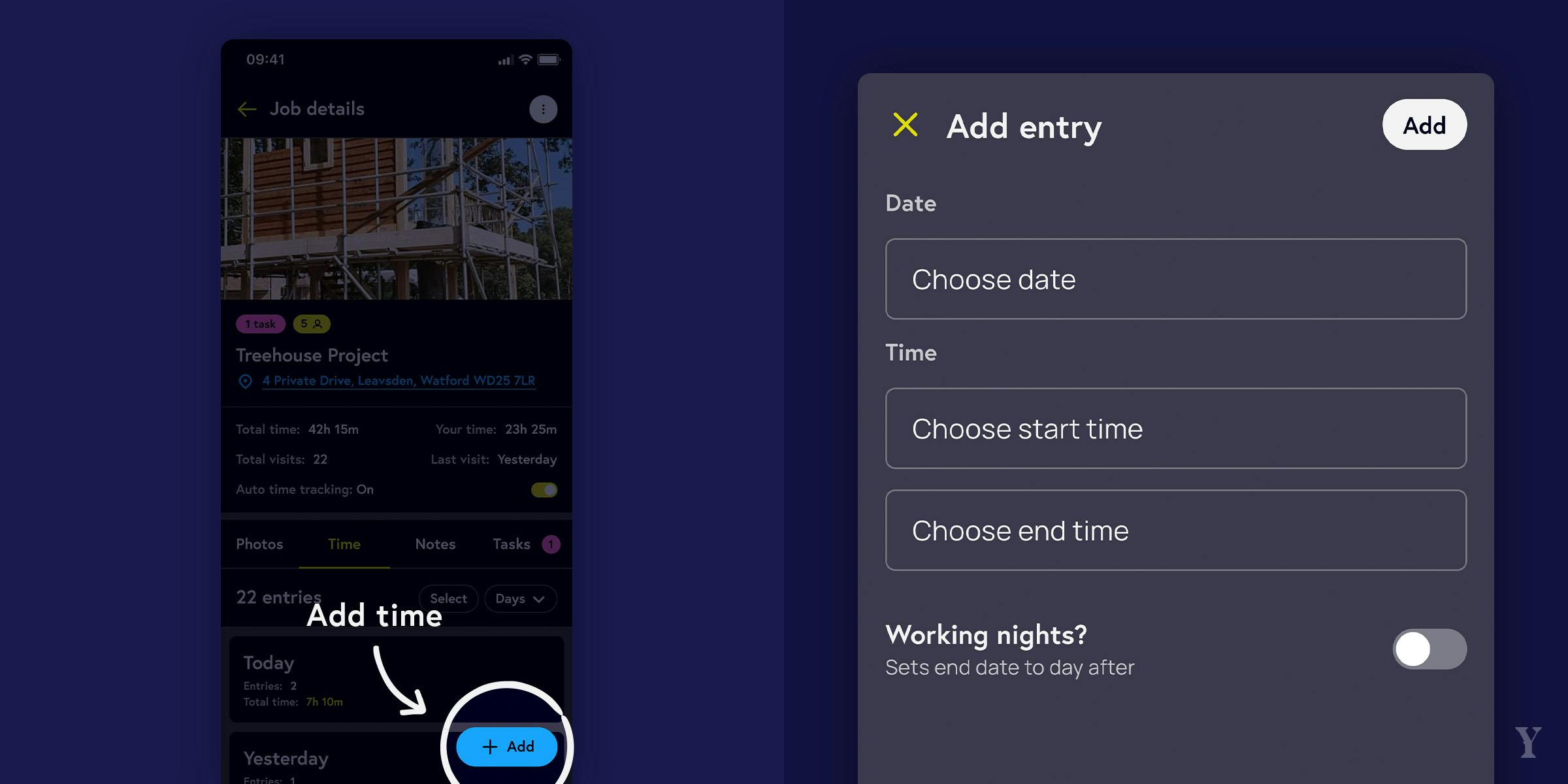 Create Timesheet
Generate an Excel timesheet from your time entries by selecting the desired time and choosing 'timesheet.'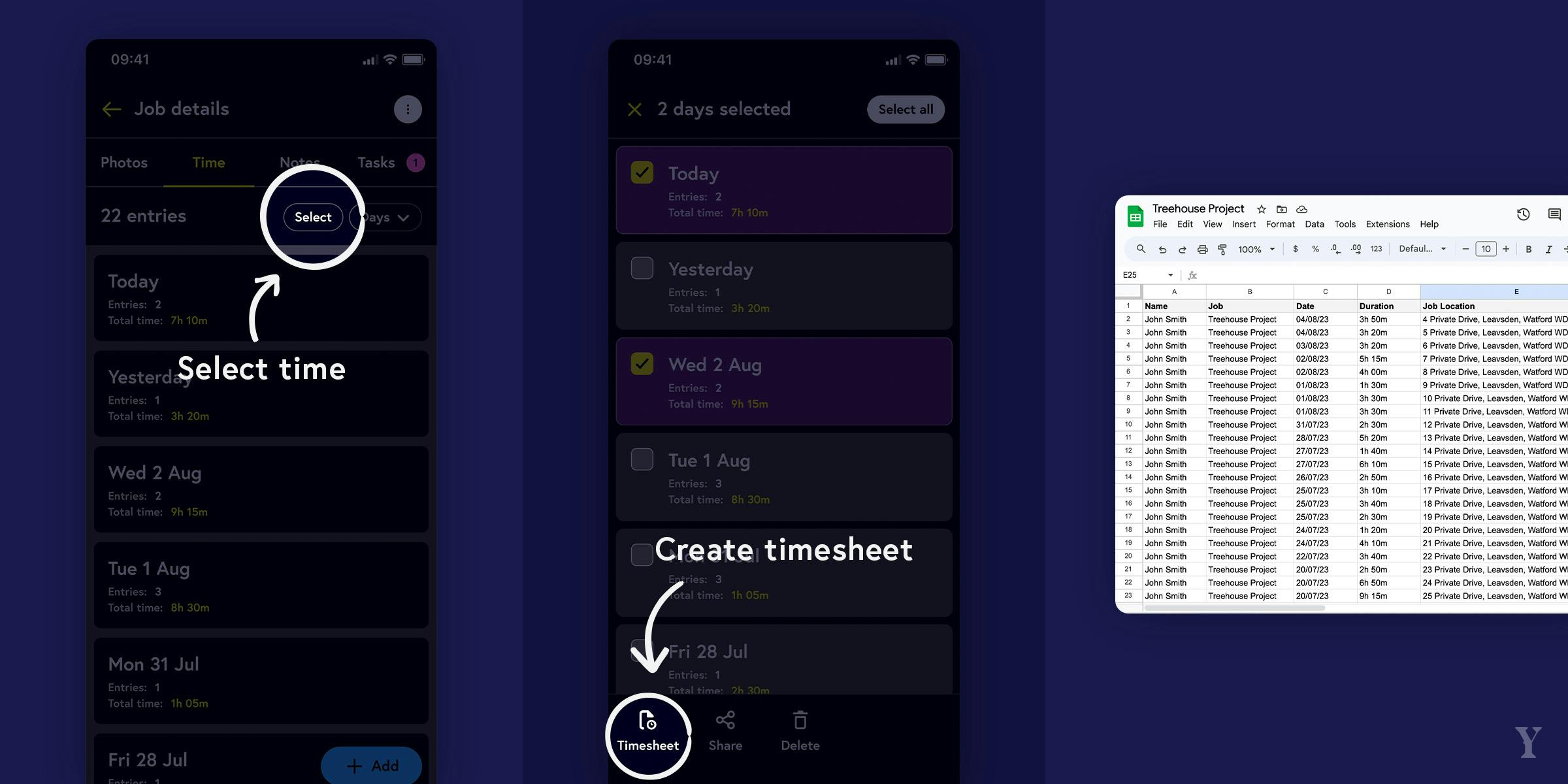 Within job details, you can access the notes section.

Total Notes
See the total number of notes associated with the job.

Select
Choose and manage notes by deleting or sharing them.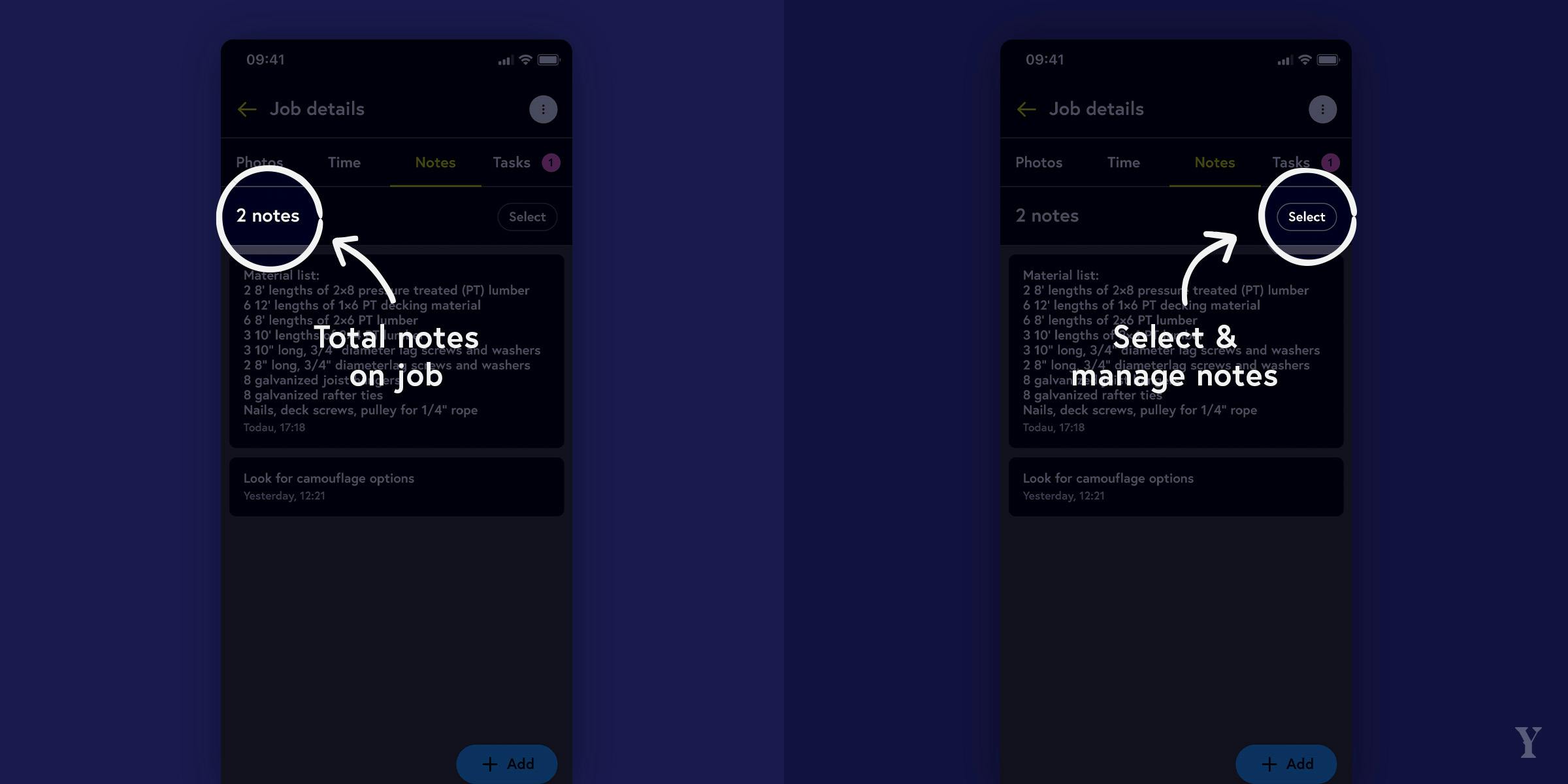 Note
View note details, including the author and creation time.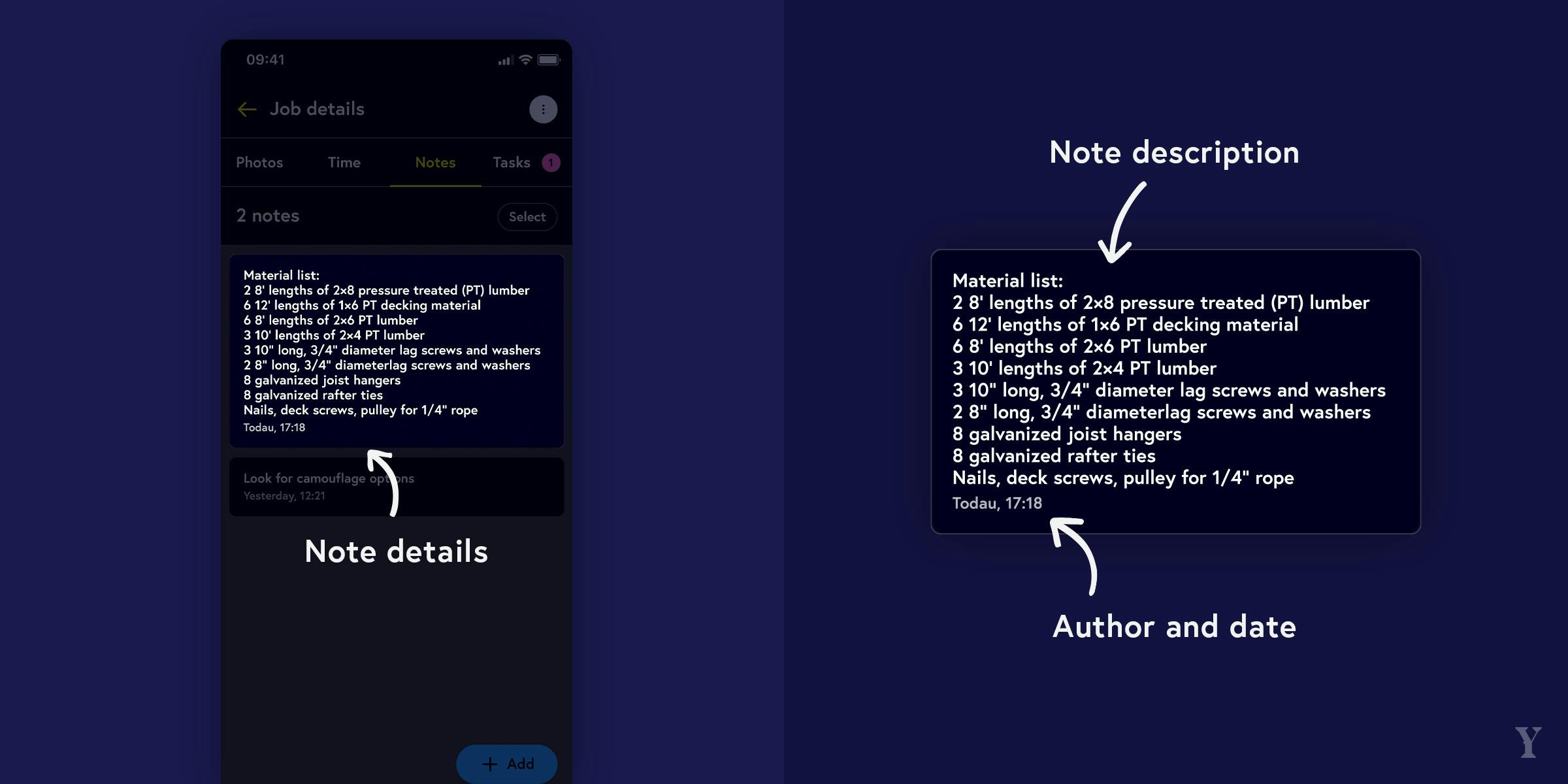 Note Options
Edit, share, or delete notes using the more icon in the top right.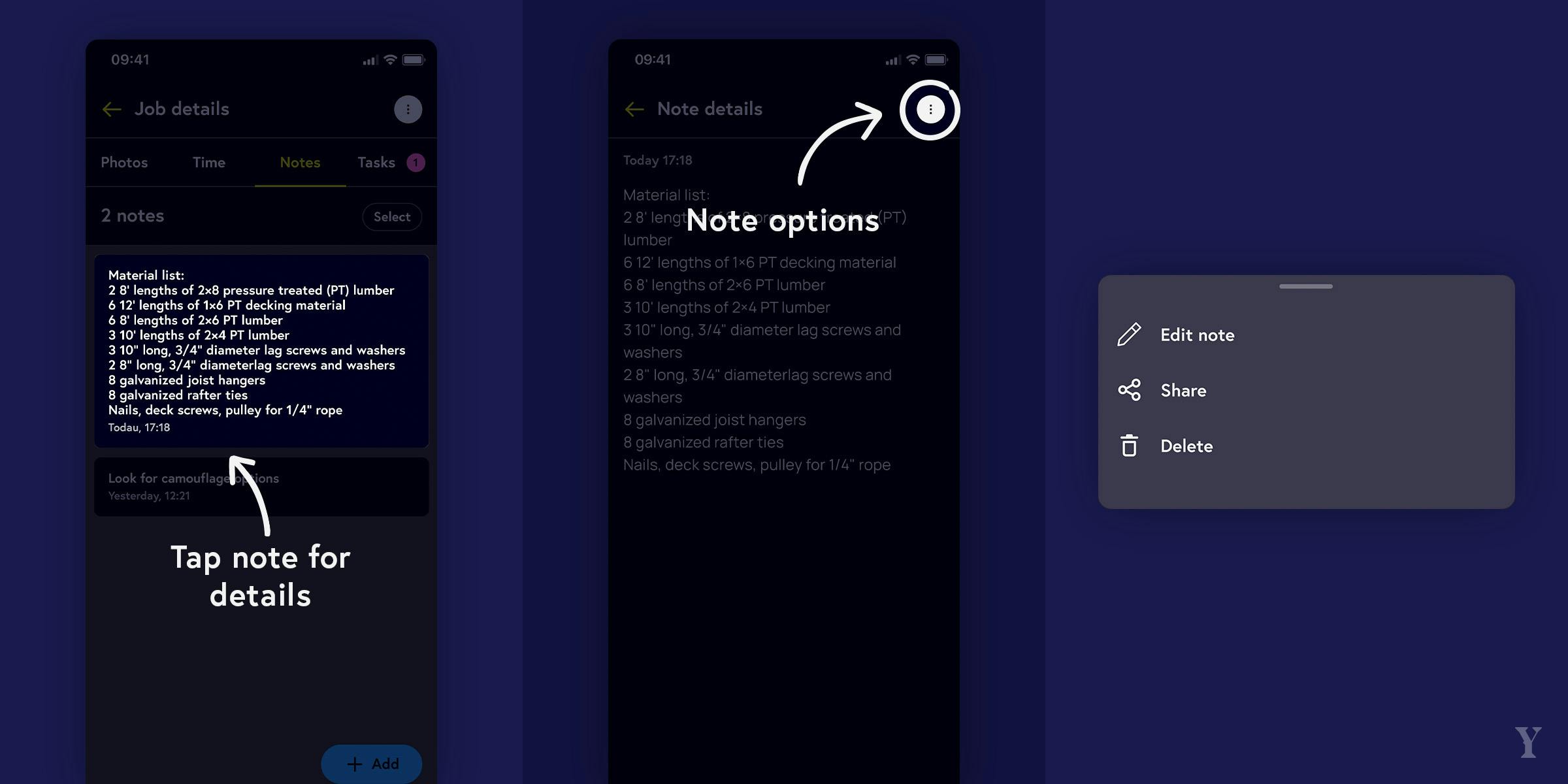 Add Note
Create a new note by tapping the blue 'add' button and clicking 'add' to save it.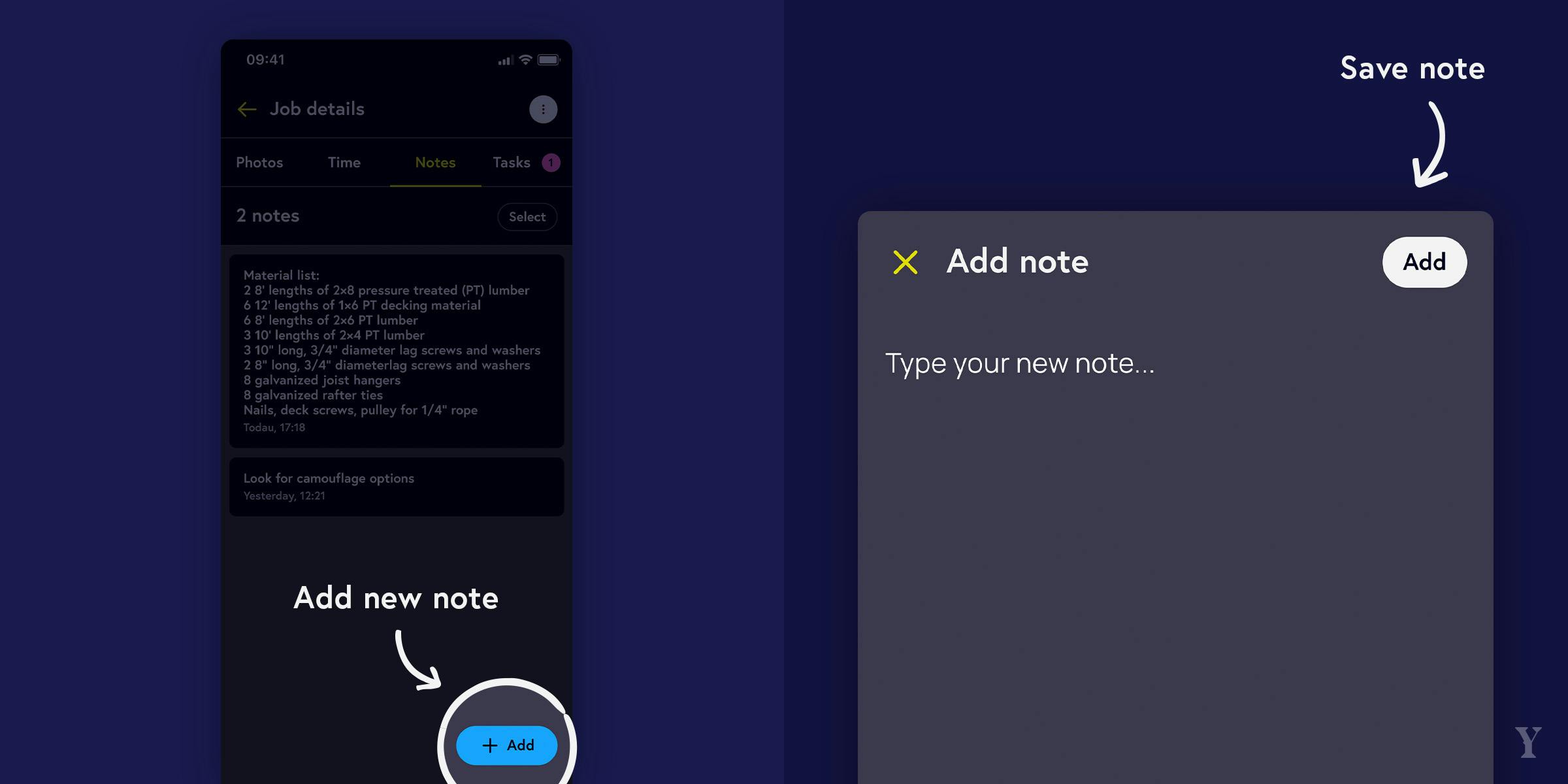 Within job details, you can access the tasks section.

Total Tasks
View the total number of tasks for that job - To do' and 'Done'.

Select
Manage tasks by selecting, deleting, or sharing them.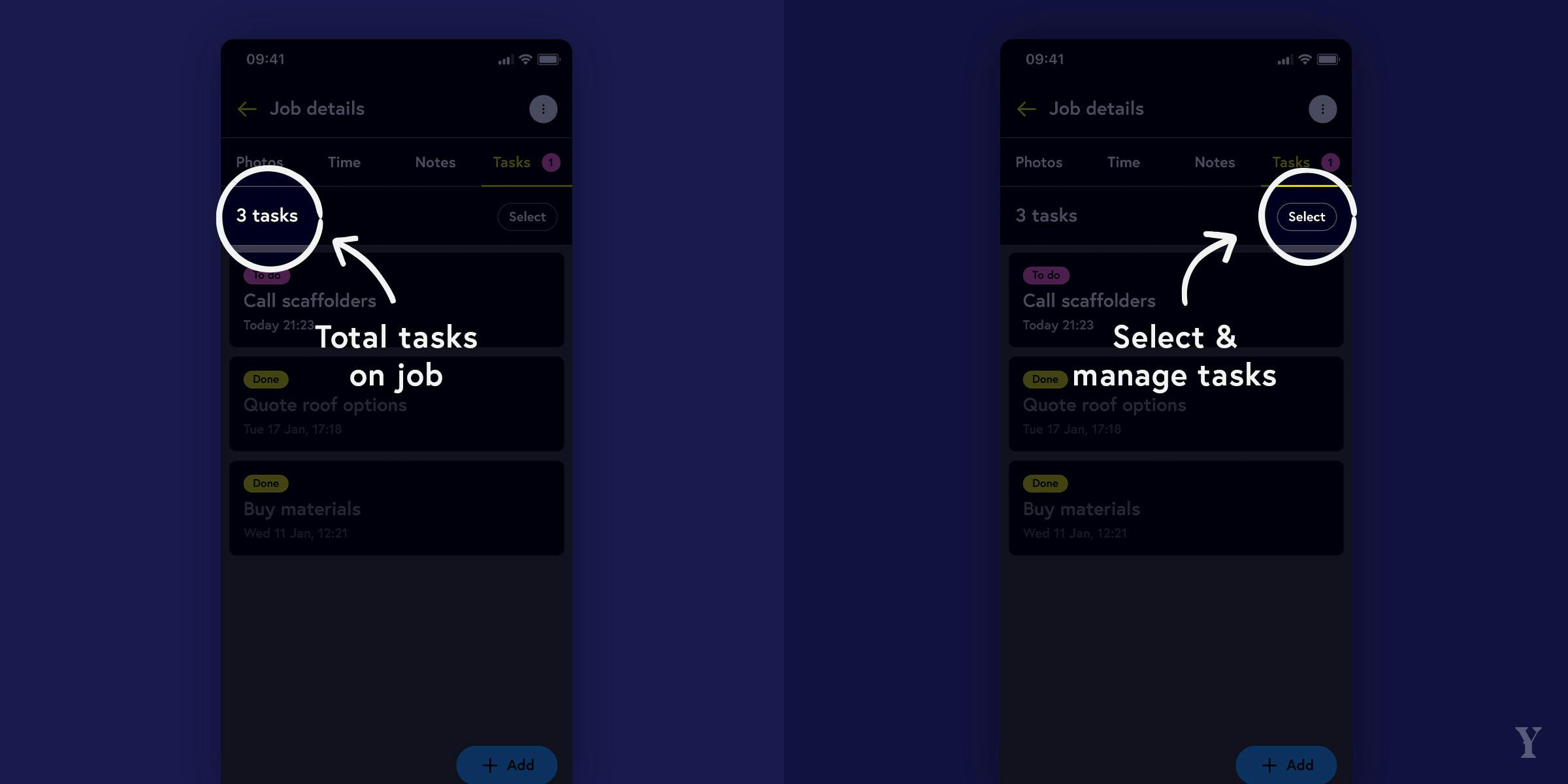 To Do
See the number of tasks marked as 'to do.'

Changing from 'To do' to 'Done'
Tap the task and select change to 'Done' or change to 'To Do'.

Task Details
Edit, delete, or share tasks by tapping on the task.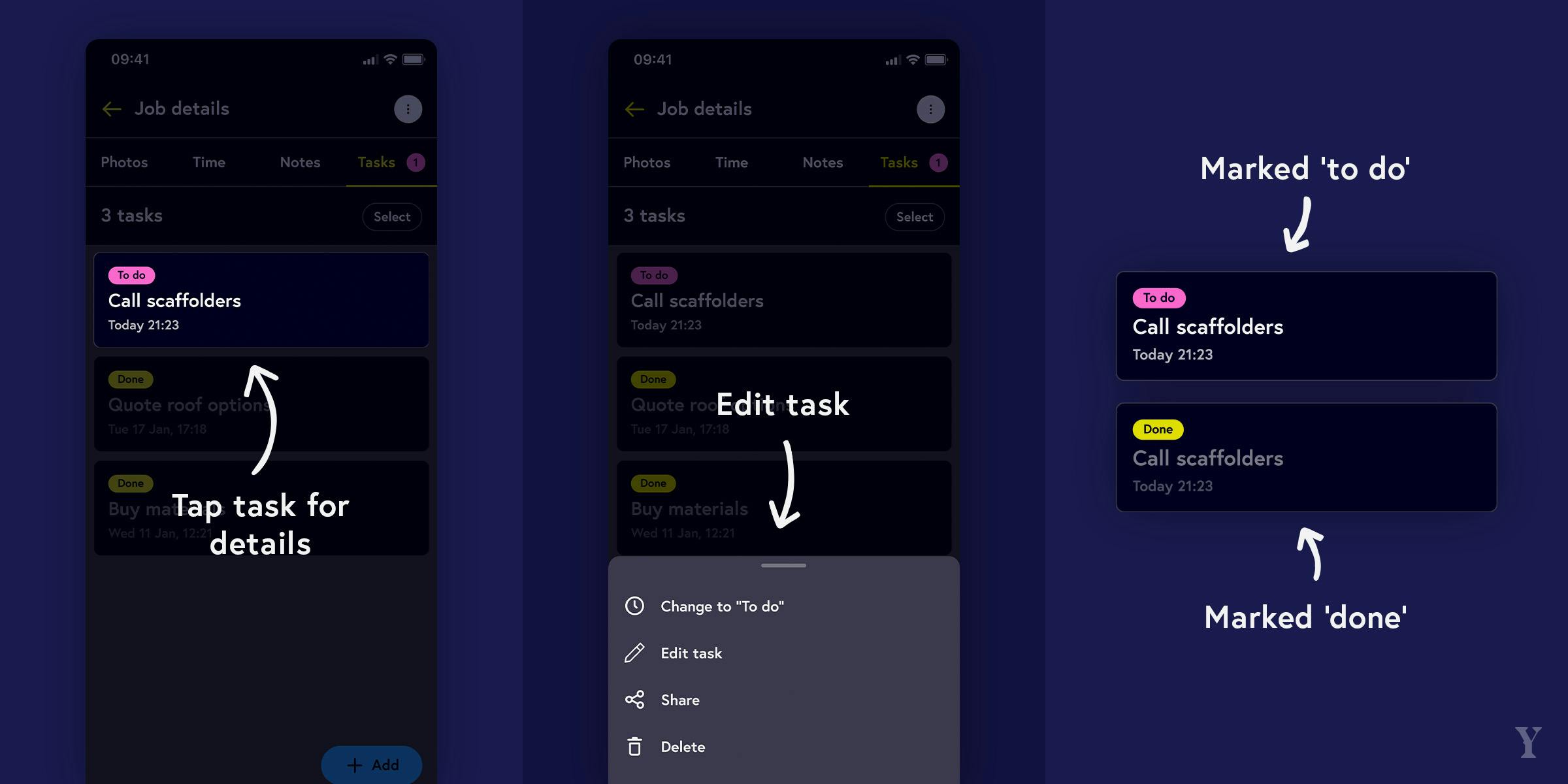 Add Task
Create a new task by tapping the blue 'add' button and clicking 'add' to save it.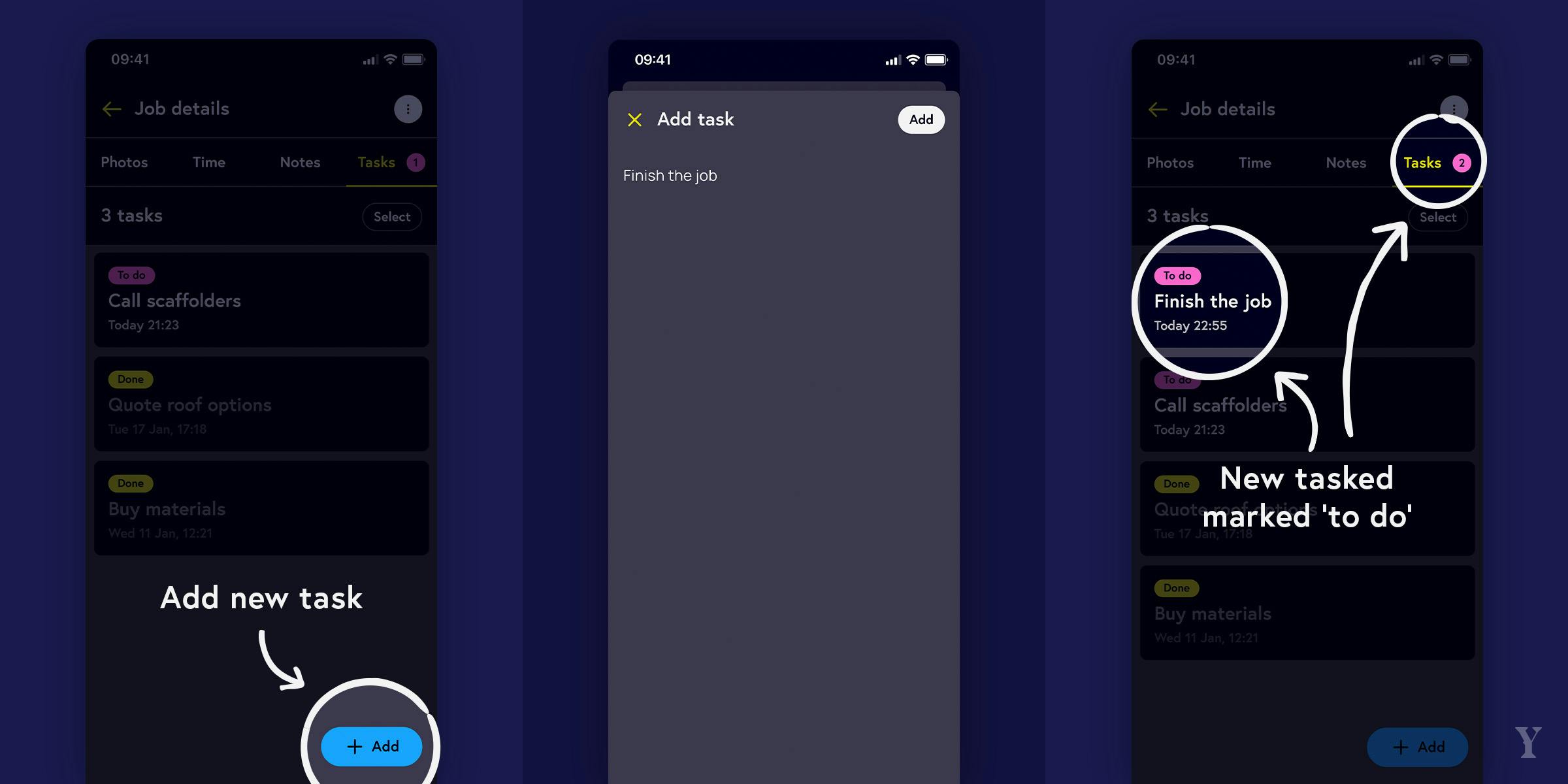 Access the menu from the bottom navigation More option.

Profile
Manage your profile details, edit your information, or delete your YEPIC account. Adding a name and trade will improve your experience.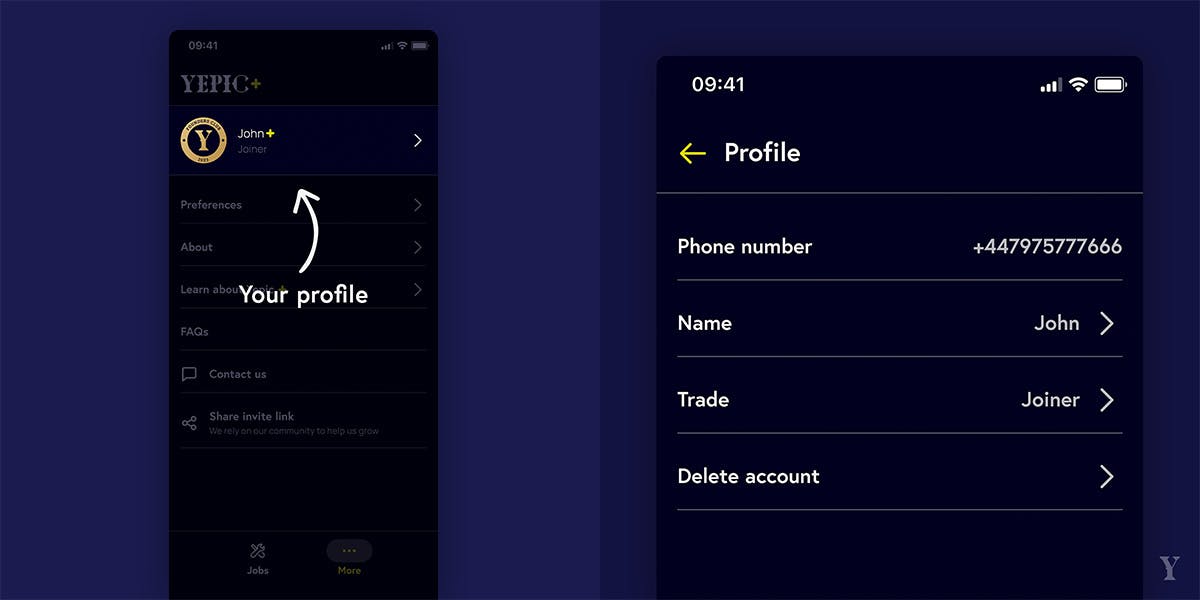 Phone Number
The phone number linked to your YEPIC account. This can't be changed.

Name
Update your display name.

Trade
Edit the trade display on your profile.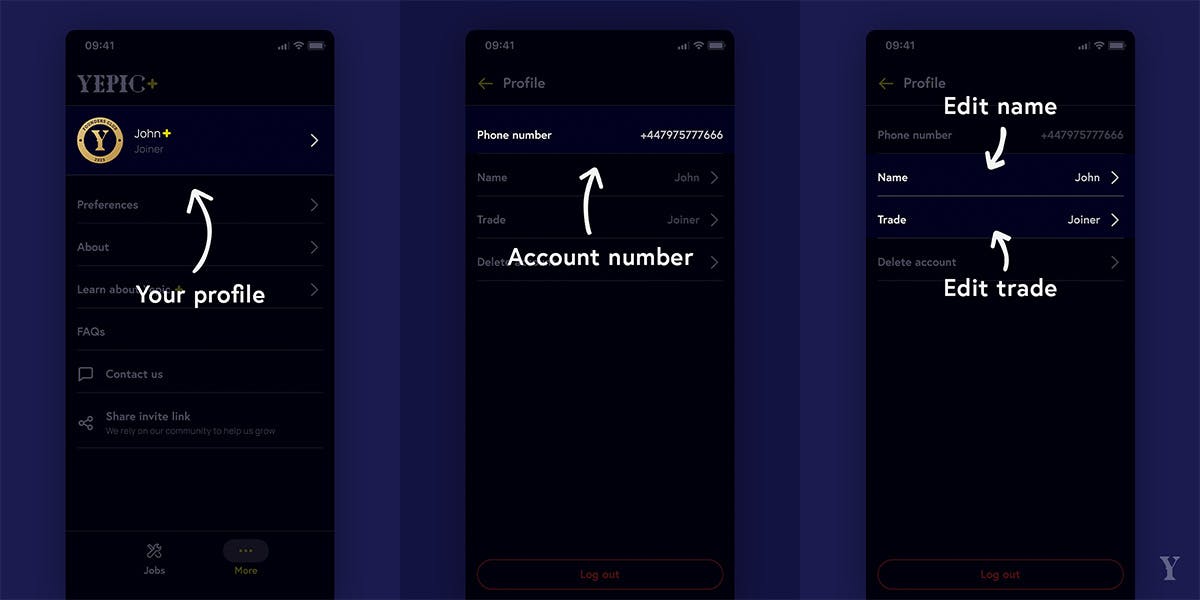 Delete
Delete your YEPIC account - be aware that all your data in YEPIC will be lost.

Log Out
Log out of your YEPIC account. We advise staying logged in for a better experience. Logging out during normal use isn't required. Automatic visit tracking will not work when you're logged out.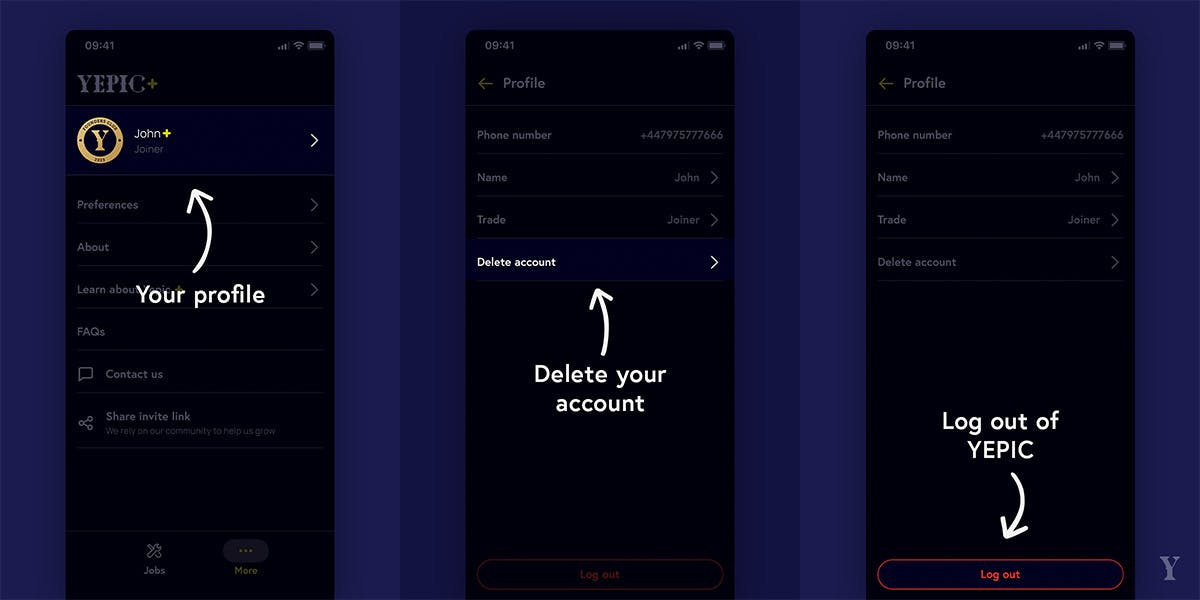 Preferences
Adjust your preferences to customise your YEPIC experience. Auto-time tracking must be switched on if you want to use Yepic automatic visit tracking. And you have the option to have photos added directly from your camera to YEPIC also copied into your phone camera roll.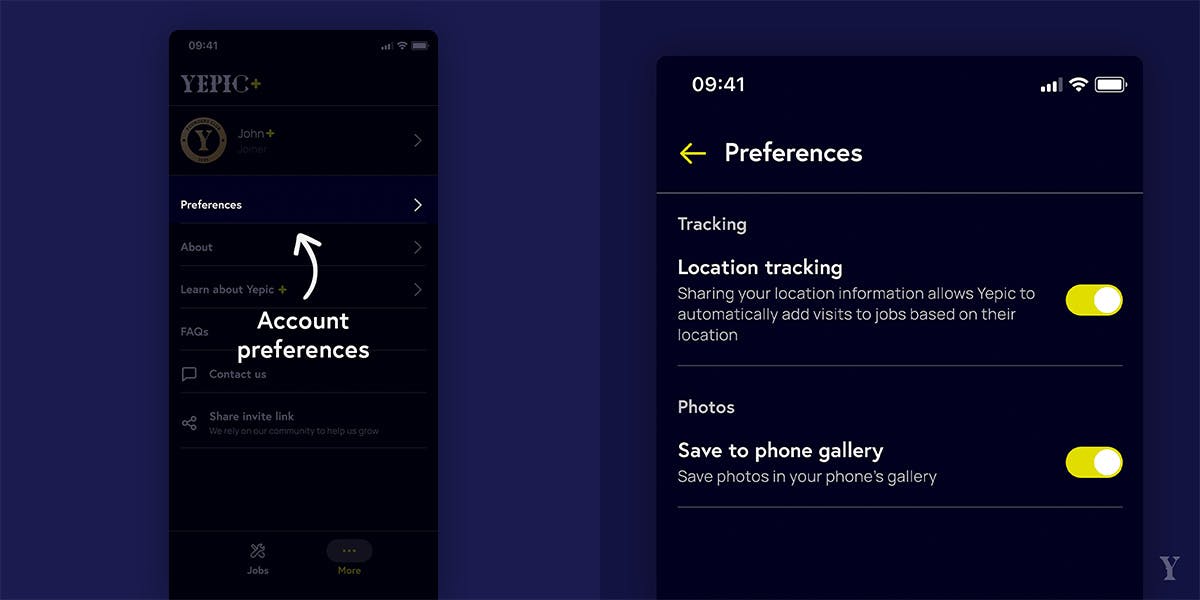 About
Learn more about YEPIC, including licences, privacy policy, terms of service, and an app demo.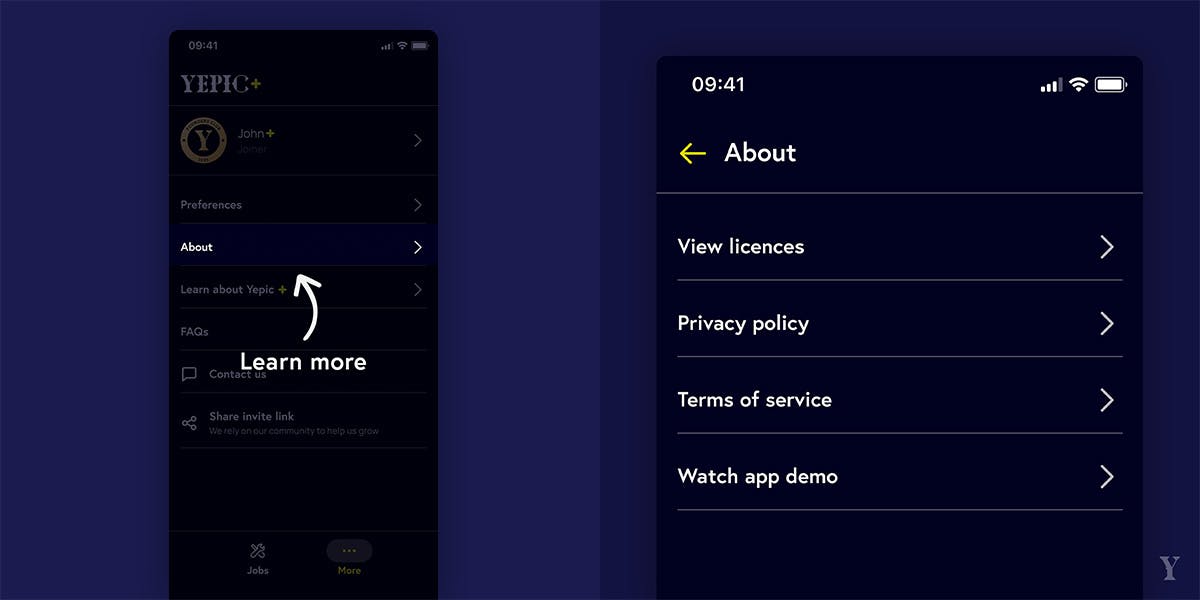 YEPIC+
Discover additional information about YEPIC+ and what it offers.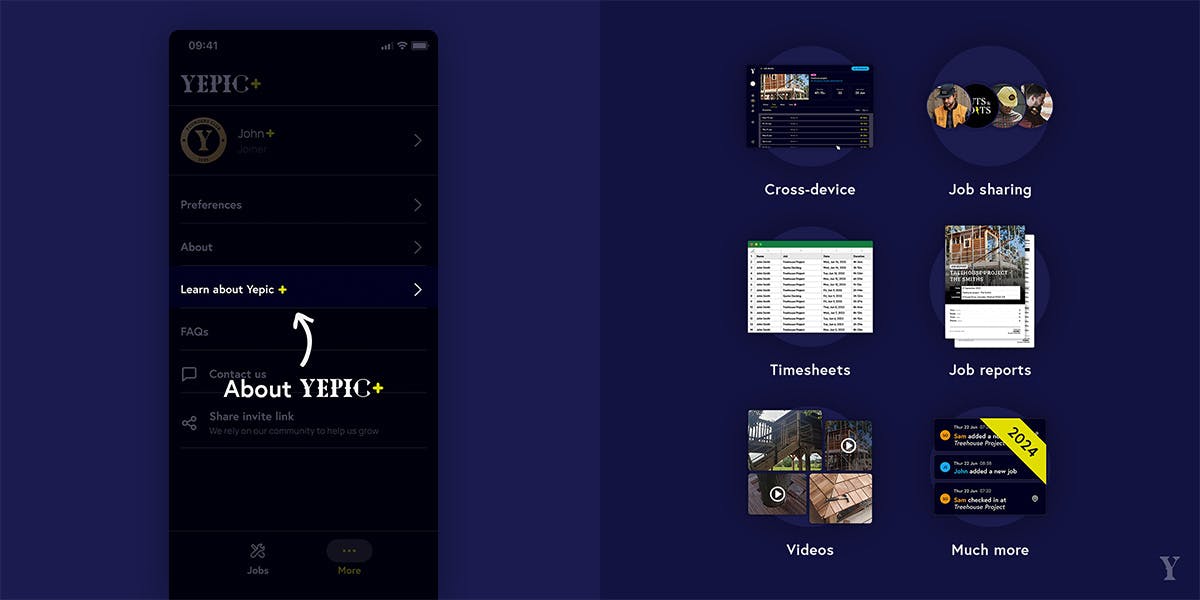 FAQs
Access answers to frequently asked questions.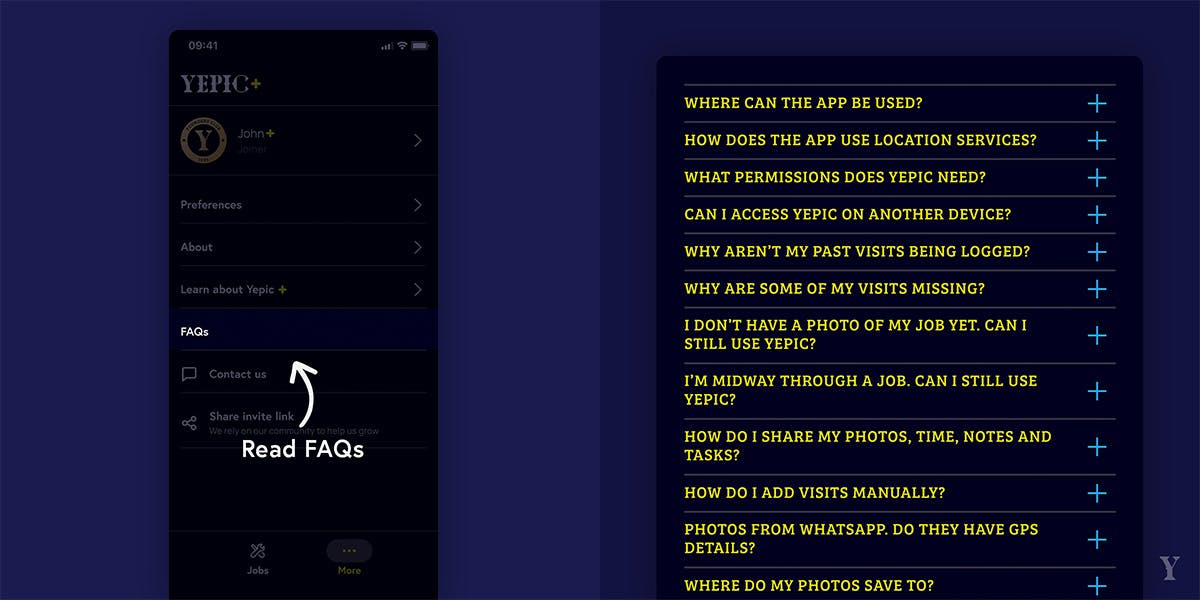 Contact Us
Chat with support directly from within the app. Response times vary but are usually same day during the working week.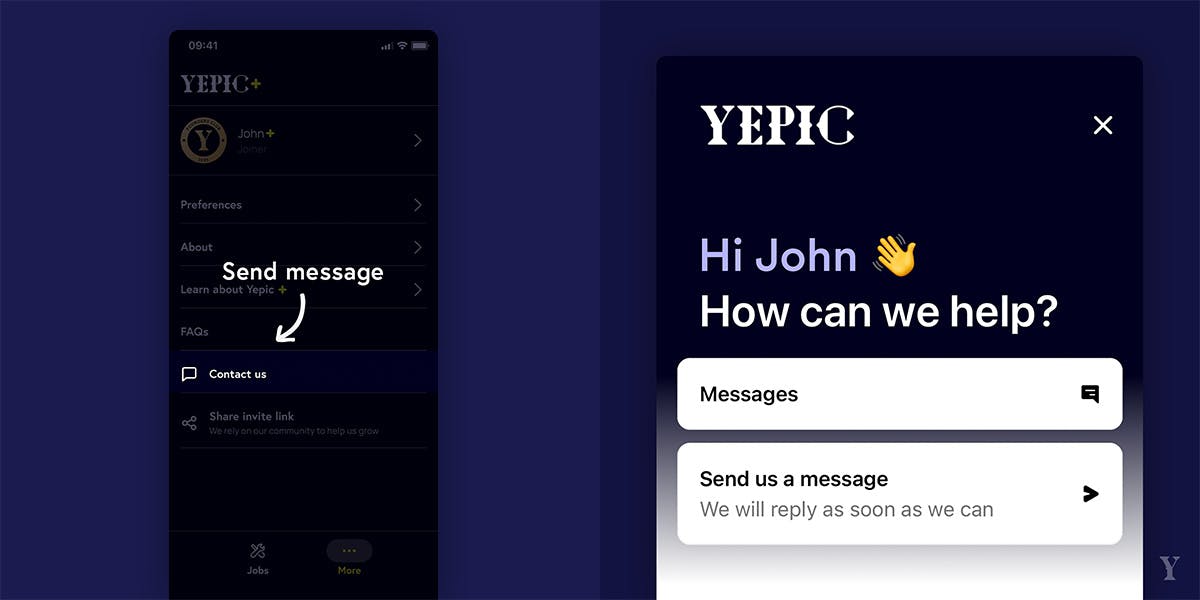 Share Your Invite Link
Invite your teammates to try YEPIC by sharing an invite link.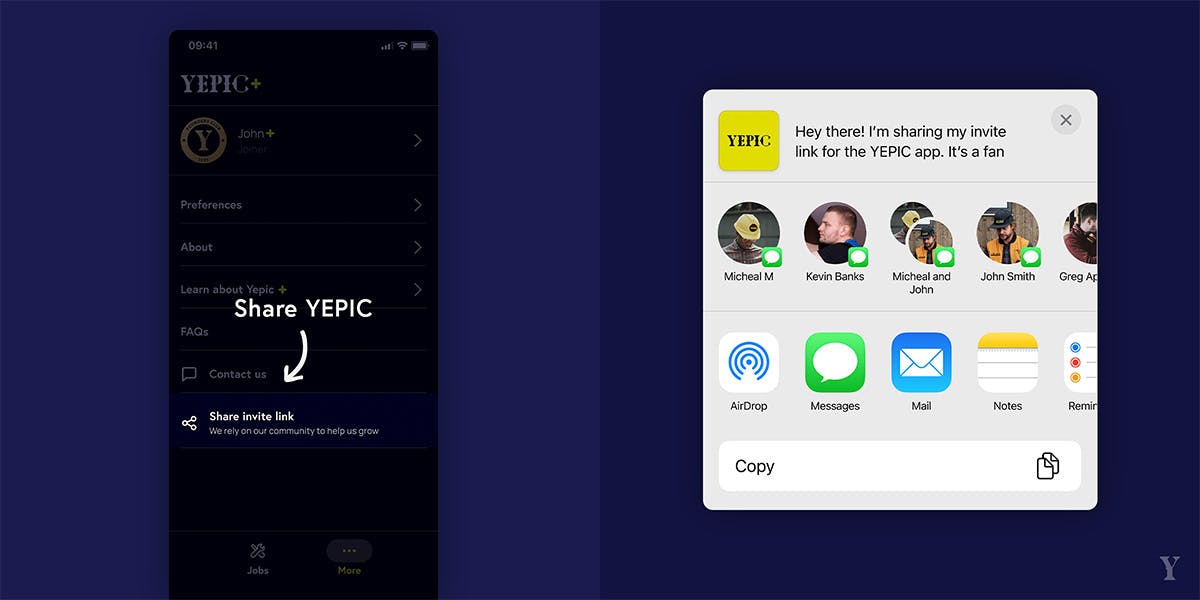 To get the best experience it's essential you have the right permissions set*

Location Services
If you want to benefit from Yepic's automatic time-tracking feature you must make sure you have enabled Location Services Permission and set it to Always so that it can log your time at jobs even when you don't have the app open on your screen.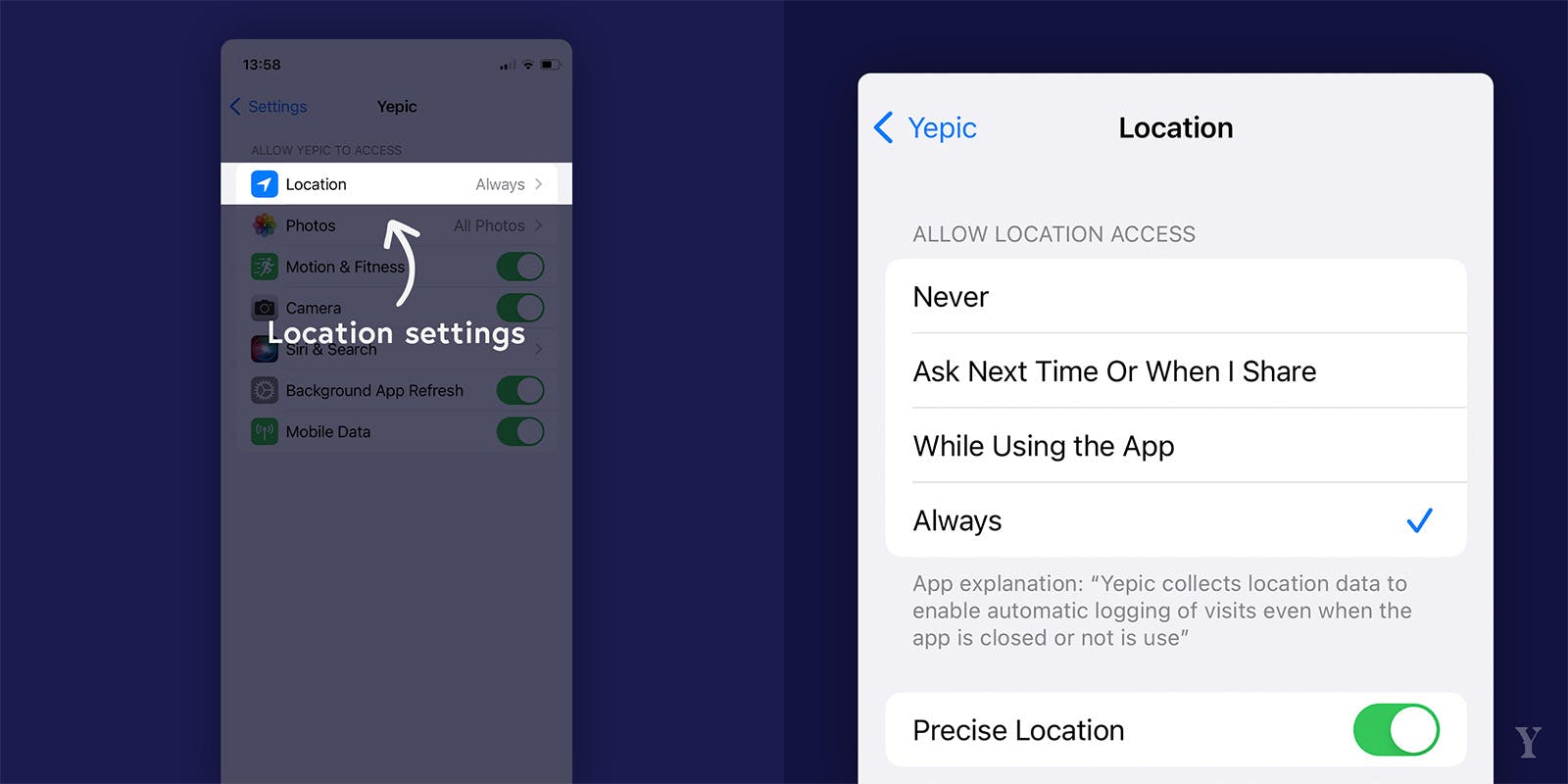 Photos
Give Yepic access to ALL your photos if you want to benefit from the automatic photos finding feature.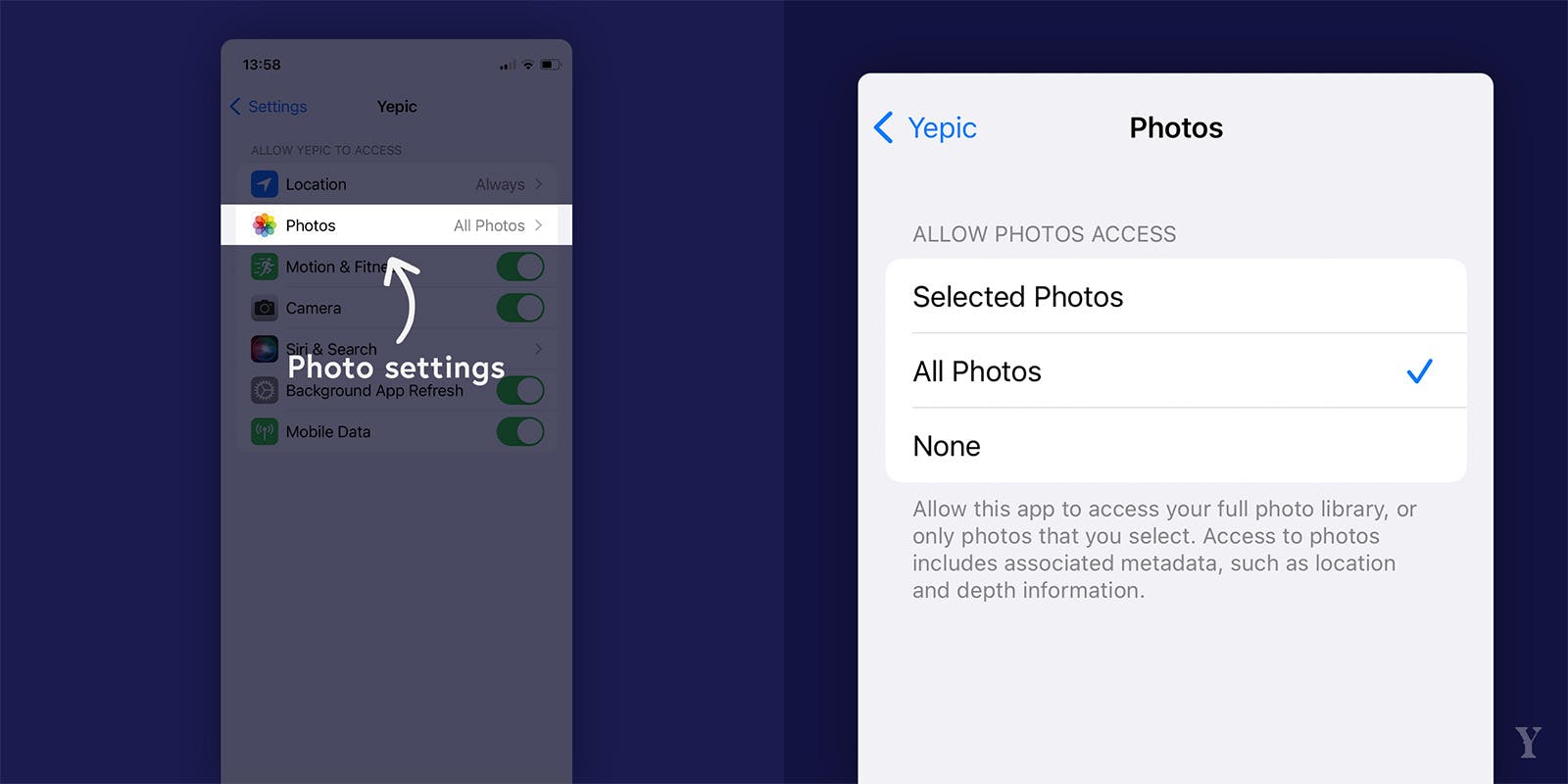 The Yepic app utilises a combination of your current location and GPS data associated with each of your photos. However, it's important to note that both sources can sometimes provide inaccurate information. As a result, the hours logged for each job and the accuracy of the photos retrieved by the app cannot be guaranteed to be 100% accurate.

We are continually working to enhance the accuracy of our app using all available means. Nonetheless, it's essential to acknowledge that it may always be influenced by various external factors beyond Yepic's control. In most cases, you will find the app to be highly accurate and exceptionally useful.

If you encounter any accuracy-related issues, we kindly request that you reach out to us through the 'Contact Us' feature within the app. This will allow us to investigate the matter and strive for improvements.
Got a question?
Send a message to our support team or live chat with us in the YEPIC app.